a roundup of my favorite affordable curtains and drapery for your home.
---
Beautiful drapes can really pull a whole room together. There's only one problem. Where do you find reasonably priced curtains that don't look cheap?
Most high-end curtains retail for over $200/panel. Multiply that by how many windows you have and you've suddenly just spent a small fortune on curtains! Yikes!
Affordable Curtains
Want to know the secret to beautiful but inexpensive drapery? The secret is in the MATERIAL! Sorry, I wasn't shouting. Just putting the emphasis on "material". Curtains that look high-end have a really nice, heavy drape and feel to them.
This article contains affiliate links to products we love. Please see our policy page for details.
When looking for curtains try to stick to these fabrics:
linen, or even faux linen (texture is nice!)
velvet
silk (or faux silk)
cotton/linen mix, or high-quality medium weight cotton.
Avoid the shiny polyester ones as much as you can. Any fabric with a good texture and weight to it will look much better hanging on your windows.
Related: Looking for more dupes? Check out this post of 15 high-end home decor dupes.
And here's another thing to think about. When curtains are closed they might look super stretched across. If you want them pleated looking while closed you will either need more panels or wider panels. You can always use two sets of panels on each side of the window to keep them looking full and lush, or just buy curtains in extra wide widths.
Here are my favorite inexpensive curtains (in no particular order) and where to get them. Don't skip the bottom! There's a good Target option at #13.
---
I have their Bellino Curtains in the color Oat Cream. They are so pretty and slightly textured. They have a really nice drape to them and come in longer lengths. But this brand has so many good curtains so check their other drapes for more options.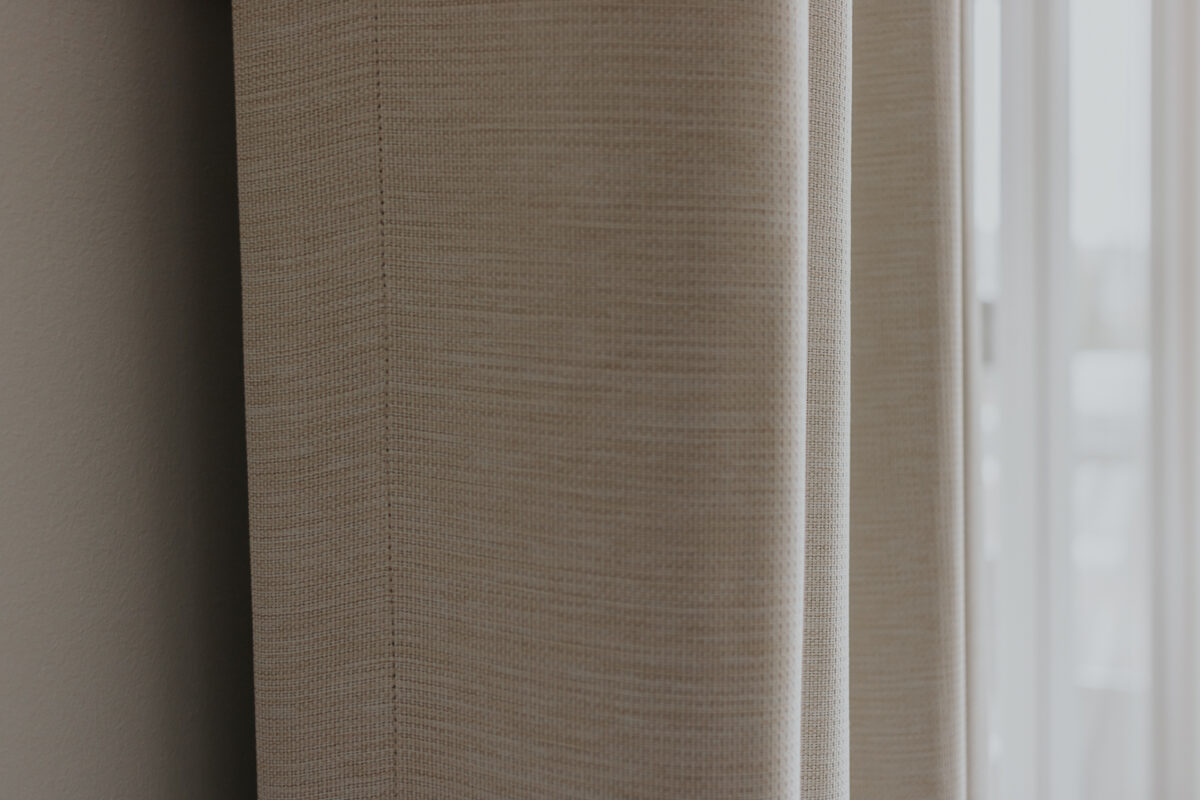 Shop Exclusive Fabrics Drapery.
UPDATE: Although I recently swapped these curtains out, I still LOVE them. And I'll put them in another room in our house. I thought our main living and open kitchen area needed something sheer and gray, which brings me to my next curtain pick.
---
I swapped over to these light grey curtains and I love them! They are semi-sheer – so not totally see through but they let the light in. They have a really nice drape to them and they are slightly textured. And, they are under $50/PAIR. YEP. They have more sizes and colors too.
---
So good you guys. They have their own website where they run sales but they also sell on Amazon and Wayfair. So it's best to check between the sites to see where the best deal is at the moment. They tend to sell out quickly!
Shop Half Priced Drapes.
---
Two Pages is amazing!!! Linen PLEATED curtains!?! For a great price? These check all the boxes. They have a lot of curtains with stellar reviews so definitely give them a look. But I must say that these linen punch pleated ones are my fave.
---
I love these Natural linen curtains from CB2. The price is super affordable for 100% linen! The longest length at 120 inches comes in under $100. And with sales – you can possibly get a better deal than that. These will add that breezy, dreamy look to your rooms.
---
These curtains are a lux velvet material and come in a variety of shades. Plus, with almost 5,000 great reviews you can't go wrong! Also available in double widths if you need that.
---
7. Jinchan
These are my velvet blue drapes in my office/guest bedroom! I'm in love with these curtains. So pretty and a smokey colored blue – if that makes sense. They hang so nice and I didn't have to steam them – the weight of the curtains eventually took all the wrinkles out.
Shop Jinchan Drapery.
---
This brand came on my radar when I saw Julia Marcum use their drapes in her dining room. Again – just really pretty, affordable drapes! Definitely a brand you should bookmark.
Shop Lazzzy Drapery.
---
If you want that farmhouse look to your curtains – these Solino Home Curtains are your winner! These curtains come in that perfect, warm cozy shade that is neutral for most decor styles and have tons of five-star reviews.
Shop Solino Home Curtains.
---
The Chanasya Textured Linen Curtains have great reviews. I saw them used on Fox & She in her living room and they look so beautiful. These come in a length of 96 inches and have multiple color options in a breezy textured linen material.
Shop Chanasya Curtains.
---
I put these sheer beauties up in our bedroom, gave them a quick steam and I'm so in love with how they look. These are very affordable and have a textured look to them. These curtains also come in a variety of colors. Highly recommend them!
---
12. IKEA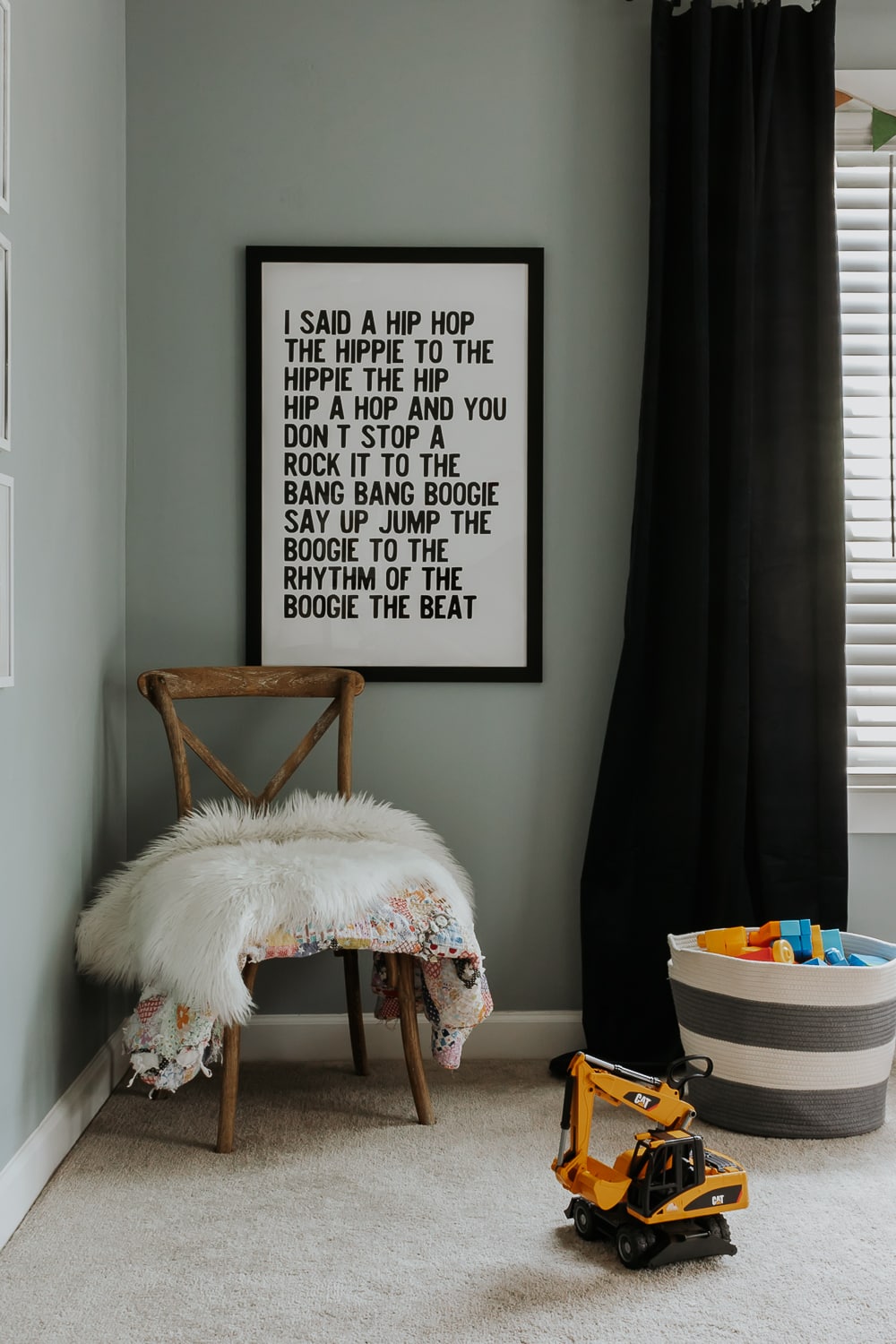 Well, you knew I had to put this one on the list. IKEA curtains are still some of the best and most affordable curtains around. And you can have them shipped to you for a flat fee. I'm using their lux looking navy Sanela drapes in our playroom. They add just the right amount of drama.
I also have the Hilja Curtains up in our small guest room upstairs. They are sheer and beautiful! And of course there is the Ritva – used by interior designers and stylists alike. Did you know that most IKEA curtains come with pleating tape in the back? That means you can pinch pleat them like this.
---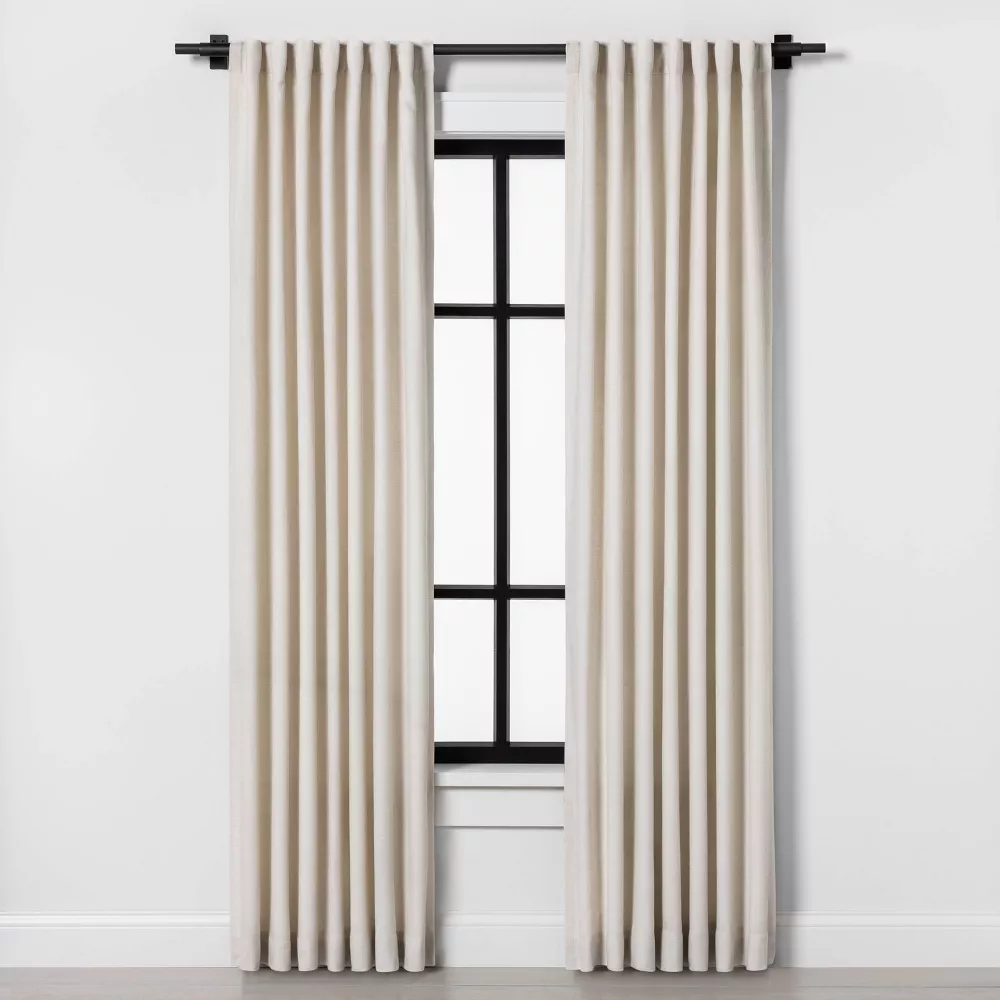 OMG! These Fresno curtains have a cult following and for good reason. They are inexpensive, have a slight texture, and come in that perfect not quite ivory, not quite white shade. So they are warm and really brighten up your spaces. The only problem? They sell out super quick. ALL THE TIME. But if you check back often you just might get lucky.
---
Shop these Curtains
Click on any photo to get more information about each curtain.
---
How to Hang Curtains so They Look GOOD.
Aside from creating your own pinch pleat curtains, here is how to hang curtains so they look good. There are no rules in decorating, but this is my personal preference and also what I see all the popular interior designers doing as well.
Hang Curtains High – About 2-3 inches below the ceiling or moldings. (Here is an easy trick for hanging curtains by the way).
Hang Curtains Wide – Try extending your curtain rod 4-6 inches past the window.
Use Drapery Rings or Clip Rings – There is something about the rings that give it a nicer and more custom look. If you want to hide the "clip", use these drapery hooks and connect your ring to that instead.
If your curtains come with the pinch pleat heading tape or buckram, you can use these pleat hooks.
Curtains should drape long enough to "kiss" the floor. There shouldn't be a "tripping amount" of fabric or a high-water look.
I'm partial to black matte curtain hardware – as Young House Love puts it – it's the eyeliner of the room.
Think long term with your drapery; more neutral colors, white, ivory, cream, or light blues and grays. No matter where you move to or how your decor changes, they will always look great.
Remember – even if the curtains don't look that great in the picture, you can usually tweak them a bit and make them look more high-end with the use of strategically placed drapery clips and proper fluffing and pleating.
Heres how to hang curtains with drapery clips perfectly.
Now that you know where to buy cheap curtains – what's next on your decorating to-do list? I'd love to do another round-up for you!
xo Karen