I'll show you my no-fail, easy method for how to use curtain clips and get perfect results every time. You can't mess this up!
---
Getting the drapery just right can be an important part of interior design – it can frame the whole room! If you are wondering how to clip on your curtain rings so you have perfect pleats and beautiful looking drapery – then this post is for you. I thought it would be helpful to show you guys how I attach my curtain clip rings, since that's basically all I use in my house!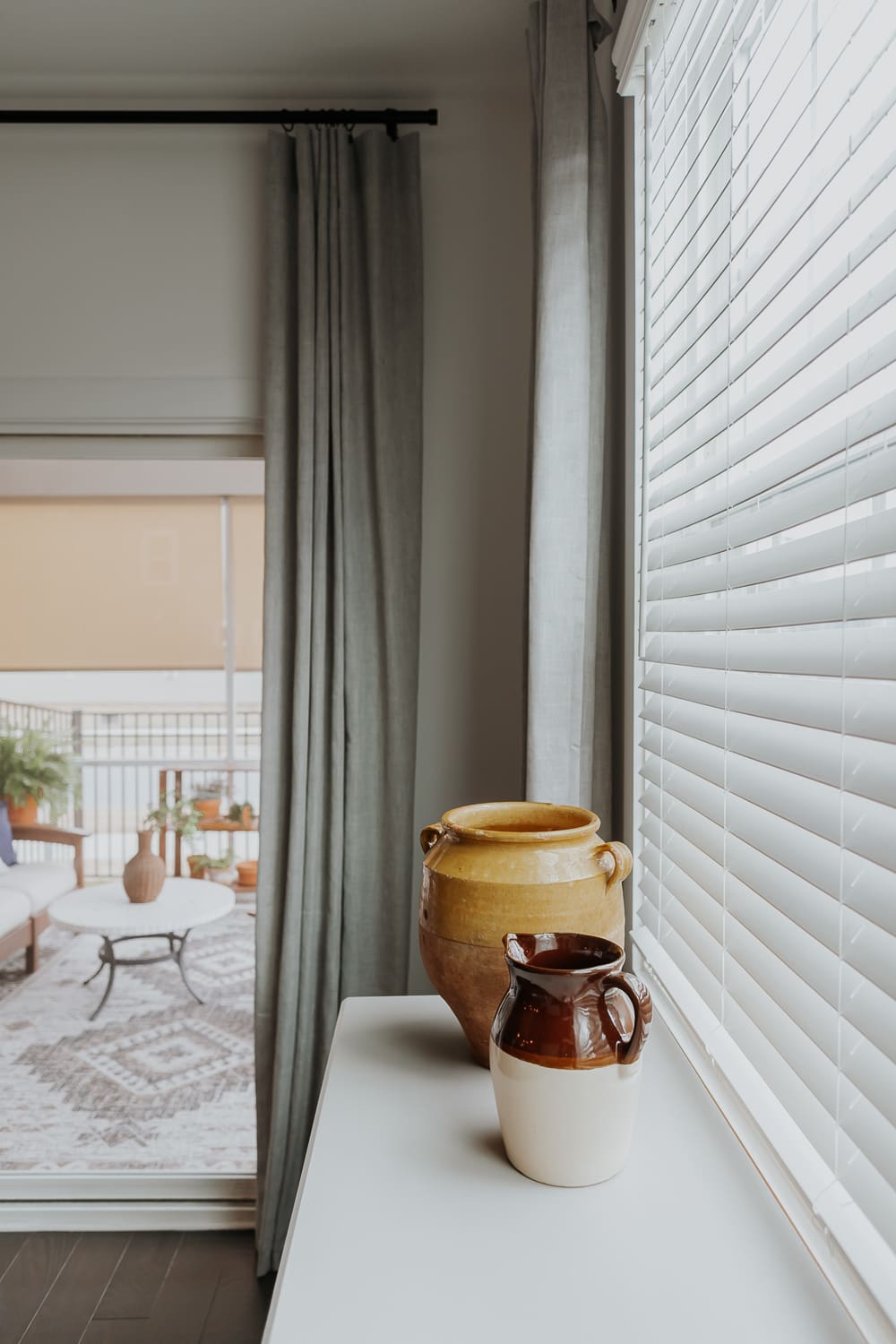 I love the look of using curtain rings versus the other methods for hanging, and I find it much easier to slide othe curtains open and closed this way. We open and close ours on a daily basis for privacy.
Before we begin, here's a few basic points about curtain clips:
Generally, clip rings are sold in sets of 7 or 10.
You want to make sure your clip ring is larger than the diameter of your curtain rod.
The more clip rings on a curtain panel, the more pleats in your curtains.
Using clip rings will extend the curtain length by 1-2 inches, since the curtain hangs slightly below the curtain rod.
You Might Like this Post too: DIY Conduit Curtain Rods
What kind of Drapes can you use clips with?
Any kind of curtains or drapes will work with curtain clip rings; including back tab (hidden tabs), rocket pocket curtains, and more. This is the beauty of using curtain clips, since you are just clipping the ring to the top edge of the panel fabric.
You can even use them to hang cafe style curtains from a tension rod – it all works!
How Many Curtain Rings Per Panel?
This is the important question but first you need to ask yourself how many pleats do you want in your curtains? If you are using pinch pleat drapery, the number of pleats will determine will determine how many clip rings you use.
If you want 6 pleats – use 7 rings
If you want 7 pleats – use 8 rings
If you want 8 pleats – use 9 rings
If you want 9 pleats – use 10 rings
The width of your curtain will also help determine this. Most curtain panels are sold in a 45-52 inch width. If you have extra wide curtains (100 inches) you will need more clips. If you have narrow, decorative curtains (25 inches) then you will need a lot less.
The curtains I'm using are 52 inches wide and I'm using 9 clip rings per panel.
How to Use Curtain Clips – My Method
Now – here's what I find is easiest way to get the most perfect pleats in your curtains! No math, no measuring – it's the perfect solution for attaching curtain clips.
Start with a total of 9 rings.
Unfold your curtain all the way and place a clip ring at either end, on the top edge of the panel.
Fold your curtain in half so the two clip rings meet. Put a clip ring on the other end.
Fold your curtain in half again, and place two clip rings on each fold at the other end.
Fold your curtain in half again, and place four clips rings on each fold at the other end.
Open your curtain back up and you should have 9 perfectly placed clip rings.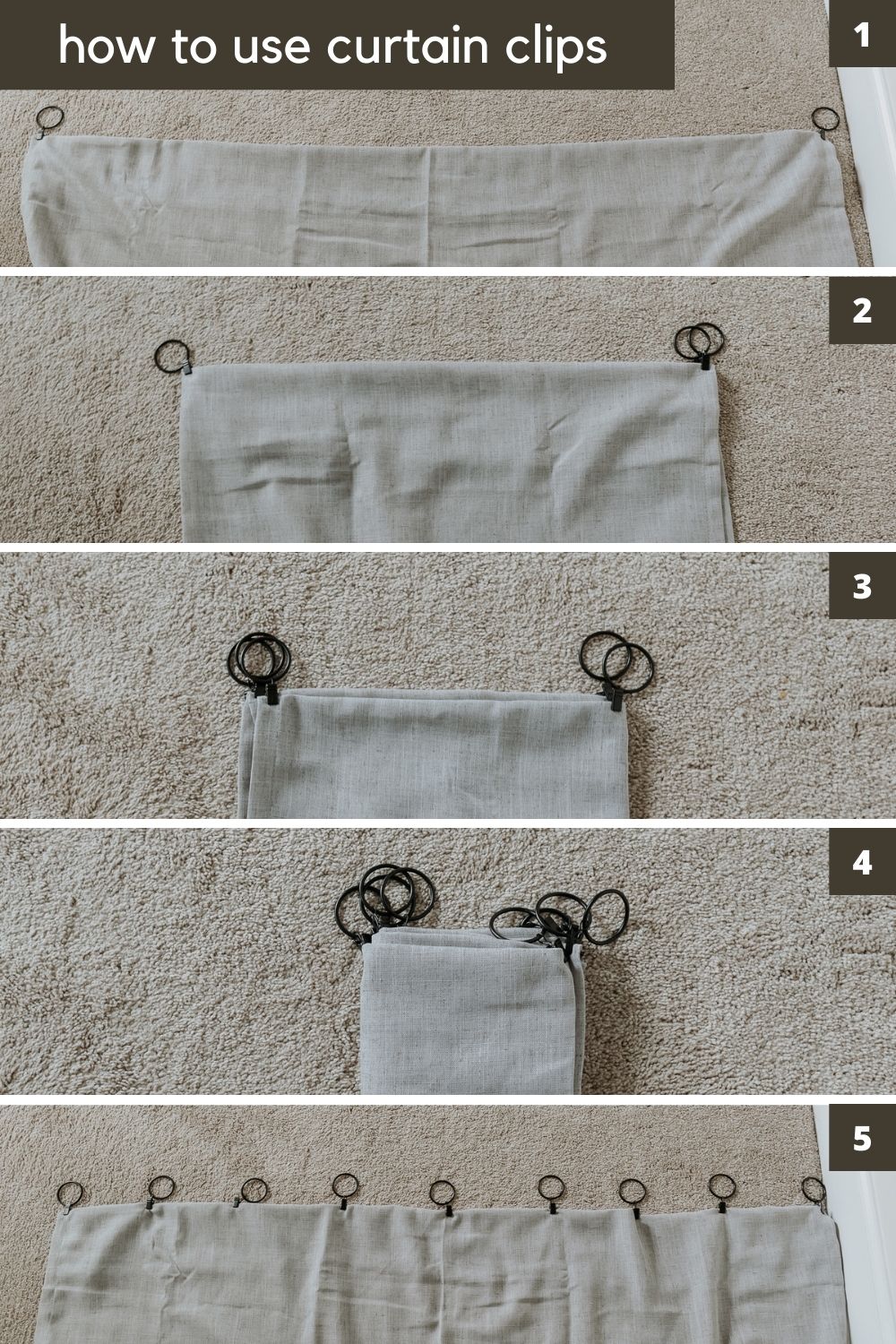 You may have to do some minor adjustments until you get the folds just right, but for the most part – all your rings are where they should be.
Grab all your clip rings together, adjust the pleats and place them on your curtain rod. I like to place one or two clip rings on the other side of the curtain bracket and the rest of the rings on the inside of the bracket. This makes the curtain look fuller and extends it past the window.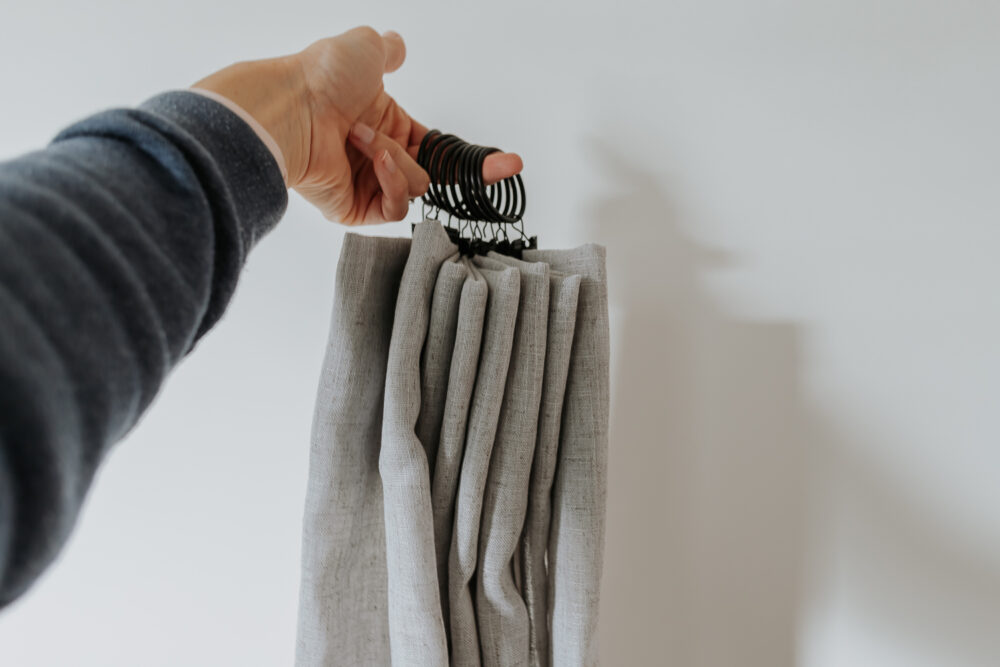 How to Hide the Clip Rings
If you want less space between the curtain and the rod, you can "hide" your clip rings with this method.
You can use the same method I used above for spacing out your curtain clips, but instead of clipping them to the top edge of your curtain, clip them on about an inch down from the top but still within the header of the drape. This will force your curtains to hang higher and closer to the rod, and you won't be able to see the "clips" on your curtain ings .
You can also use drapery pins. These drapery metal pins have a sharp point that you can slide through the back of the curtains in the header, then you can hook the pin onto the curtain ring.
How to Train your Curtains
You can "train" your curtains to stay pleated or "remember the pleats". First – steam them once they are hung to remove wrinkles. I use this steamer and I love it so much! You can also try tying a loose jute twine around them once the pleats are in place. You will have to leave them like this for a few days so they set.
If you have a good drapery fabric, like velvet or linen curtains, I find it's easier to train your curtains.
My favorite Curtain Clip Rings
You can buy curtain just about anywhere these days but I get mine in bulk on Amazon. I always opt for a matte black curtain rod and this bulk set of matte curtain clips.
You can go fancier if you want; such as Pottery Barn or Ballard Designs. I am just fine using the bulk set and I think they look great too.
I hope this post helps you! And now that you know how to use curtain clips, be sure to check out my favorite curtains and drapes for your home.
xo Karen
Karen Sloan is the founder, editor and syndicated content writer of www.decorhint.com. She offers hints of inspiration for everyday living, including home ideas, DIY projects and lifestyle content. Her work has appeared on Google News, MSN, Pioneer Woman, Apartment Therapy, and Bustle, among others.