You don't need to spend a fortune on curtain rods – I'll show you how to easily create your own modern, sleek DIY conduit curtain rods.
---
This is a project I've been wanting to tackle for a while: Conduit Curtain Rods!
I find it hard to justify spending money on something that I could make cheaper, or get cheaper – where the overall brand name quality doesn't really serve a purpose for me.
Curtain rods are one of those things.
You'll be happy to know that you don't have to spend almost $50/rod or more. With a little time and effort, you can make these for $10.
If you are not into making these, the cheapest rods I could find are these Walmart rods. Even Target wants almost $30 for their curtain rods.
After trying this conduit curtain rod project, I don't think I'll ever go back to regular curtain rods! Once you get the tube cutter and the spray paint, the cost per rod goes down – even more so if you buy the accessories (brackets, rings etc.) in bulk.
Let's get started with this tutorial.
Things You'll Need
Electrical Conduit – I used the 1/2 inch but you can use 3/4 inch or 1 inch conduit too
Tube Cutter
Spray Paint & Primer in Black Matte (or another color of your choice)
Drill, tape measure, stud finder and screwdriver (for hanging the curtain brackets)
Go to your hardware store and walk down their electrical aisle. You'll find a bunch of electrical conduit there for $10 or less – they come in all sorts of lengths and diameters.
(That's the beauty of this project – you can get LONG curtain rods for cheap!)
While you're there – go ahead and grab some curtain rod brackets. And some spray paint. And a tube cutter. It's pretty much a one stop shop!
Or, for the curtain rings and brackets – you can look on Amazon. They sell them in bulk at a great price!
Step 1: Measure your Conduit and Cut to Desired Length.
The first thing you want to do is cut your conduit using your tube cutter. You will want to measure your window and figure out how long you want your curtain rod to be.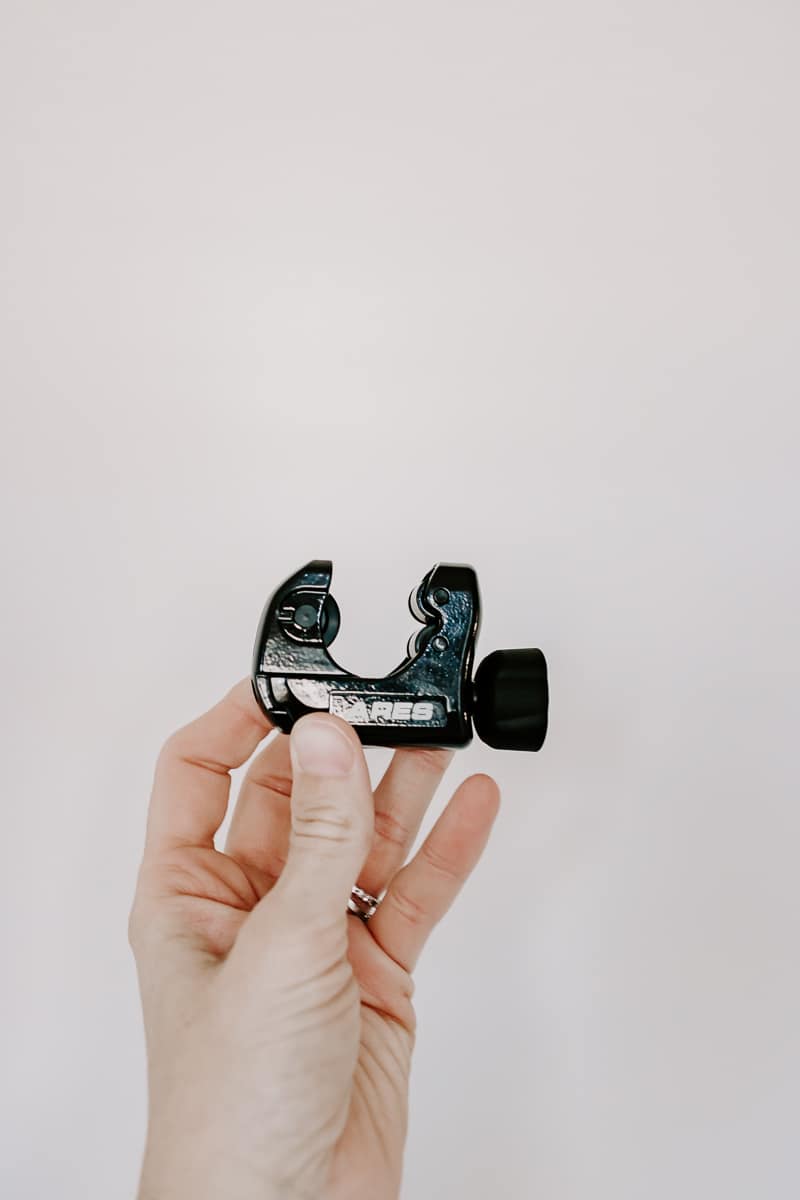 I like my curtain rods to extend out past the window on either side by about 6 inches.
Originally when I completed this project, I made the mistake of spray painting my conduit, then using the tube cutter.
Unfortunately, the tube cutter scraped off the spray paint in some areas and I had to repaint it after it's cut.
You're learning from my mistake – cut before you spray paint!
Refer to this video for using a tube cutter – it's pretty easy.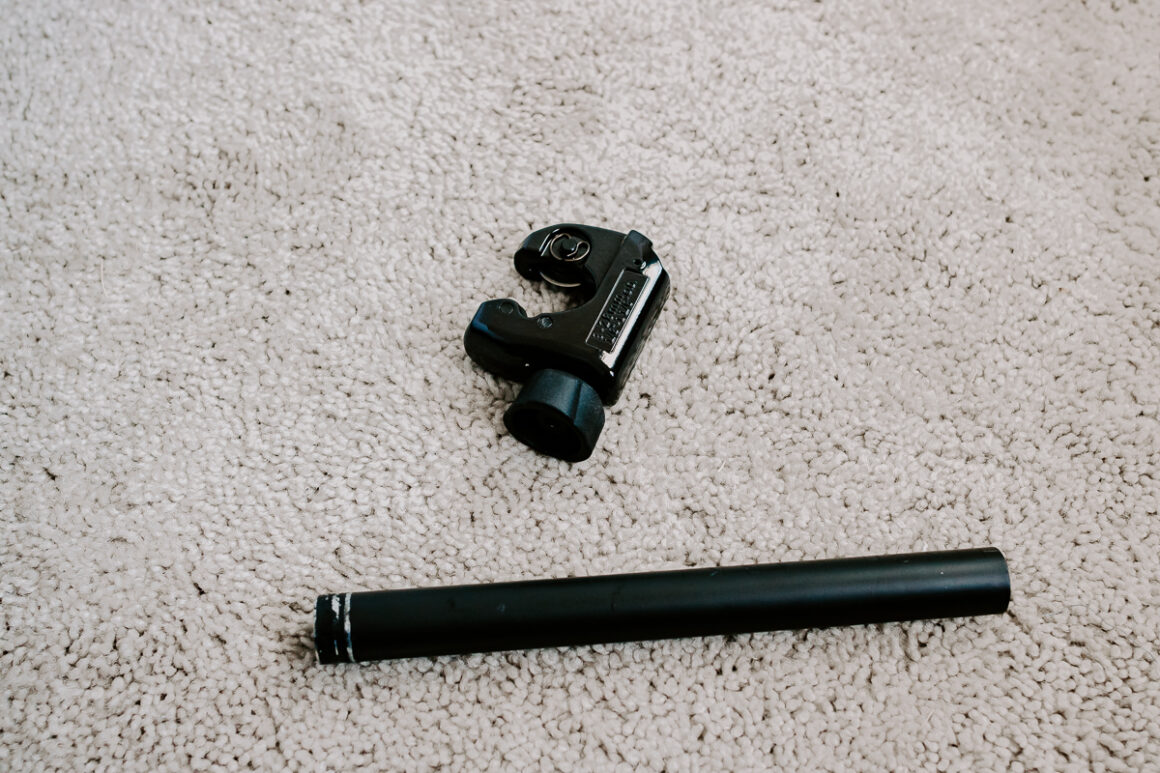 I found that it definitely took a lot of turns of the tube cutter until it finally came off. So don't give up! 🙂
Step 2: Spray Paint Your Conduit.
After your conduit is cut, we are just going to spray paint it black. You could also spray paint these white, or even gold. I love and recommend using Rustoleum Spray Paint and Primer.
I used their Matte Black on my conduit and it looks perfect! Don't forget to spray inside the hole on either side – I don't use finials for these and you don't want to catch a peek of any silver parts.
You might find that you have some etched in wording on your conduit. This is really not visible to the eye once it's hung up on the wall. You can also turn it to face the back of the wall when installing.
Step 3: Hang Your Curtain Rod Brackets and Conduit Curtain Rod.
The first thing I do when hanging curtains is use my stud finder to mark the studs in the wall. This will determine if you need anchors or if you can drill the screws for your curtain rod bracket directly in the wall.
Now grab your tape measure. Make a mark on the wall where you want your curtain rod brackets to go. You can also hold your brackets up to the wall and mark each screw hole with a pencil.
I measure out from the window molding – that way each side has the same placement and will be even.
Predrill some pilot holes in your wall where your pencil marks are. If you are in the stud – you can drill the screws directly into the stud.
If you are not in the stud, you can use a screwdriver to screw anchors into the wall first.
You don't want to drill these anchors into the wall. That defeats the purpose and ruins the "anchor" part by stripping the drywall. Use a flat head screwdriver to carefully screw them into the drywall. (There's another lesson from one of my rookie mistakes.)
After the anchors are in place, then you screw into the anchors. Your curtain rod brackets should be in place!
Now we are just going to take our conduit curtain rod and place them in our brackets. Depending on what size you used for your conduit – you can use the little screw under the bracket part to hold the conduit in place.
I find that once I put my conduit curtain rods up they don't move on me. Even after opening and closing the curtain.
What about Finials?
Finials are those little decorative pieces on either end of the curtain rod. Sometimes, they are helpful in that they keep your curtains from falling off the rod.
I actually don't really care for the look of finials so I kept them off. I like the simplistic look of a single rod.
Most, if not all, of my curtain rings hang inside the curtain rod bracket, as shown in this photo here.
So there is no risk to my curtain falling off the rod.
This is just one less step you need to take.
If you do really want something on either end of the rod – hardware stores and Amazon sell these little pvc caps/fittings.
You can spray paint these the same color as the rod and then use a bit of construction glue to attach them on. Be sure to get these caps in the right size to fit over your conduit.
Does this really work?
Yes!
The strength of the conduit pipe and the use of curtain rod brackets means that it will hold a hefty weighted drape and there will be no sagging (unlike PVC pipe).
I have found it pretty easy to slide my curtains back and forth across the rod. Truthfully – I'm not sure if this is just me or the actual rod. Like, maybe I'm "babying" it across the rod just because?
Would this work with PVC pipe?
I've tried it! When I made pinch pleat curtains for my kids rooms, I hung those curtains up using spray painted PVC tubing.
It definitely works but there are a few things to note: my curtains are extremely light and non functional (meaning I don't open and close them) AND I had to hang an extra bracket in the center to keep the pvc pipe from sagging.
Either way – I'm so happy that I don't have to spend a lot to get something as basic as a curtain rod anymore.
xo Karen
Karen Sloan is the founder, editor and syndicated content writer of www.decorhint.com. She offers hints of inspiration for everyday living, including home ideas, DIY projects and lifestyle content. Her work has appeared on Google News, MSN, Pioneer Woman, Apartment Therapy, and Bustle, among others.