DIY Easter Bunny Garland: Cute Craft Project for Kids
---
I've never been a huge Easter decorator.
I'd put out a few decorated eggs here and there and some beautiful Spring flowers and call it good.
But lately, I've been upping my Easter decor game. Last week, the kids and I made a pretty (and easy!) Easter Tree. This week, we are trying our hands at a cute Easter Bunny Garland with pom poms.
You will need to make some pom poms for this tutorial. But I assure you, it's a snap to put together once you have all the materials.
How to Make Pom Poms Video
Let's get started!
Here's what you Need
DIY Easter Bunny Garland – Step by Step
Make some pom poms following this tutorial. Or watch the video included in this post. You will also need a long white piece of yarn or string equal to the length of your garland.
Grab a piece of cardstock and cut it into a square, then fold the square in half.
Draw a half section of rabbit ears along the fold in pencil. It's like drawing a little flower petal.
Cut along your traced bunny ear design and unfold the paper to reveal two bunny ears.
Punch a hole in the center of the bunny ears near the bottom.
String the loose ends of your pom pom through this hole and tie it tight to your garland string.
Continue steps 2-7 with the rest of your pom poms.
All done!
Now all you have to do is hang it up. This adorable bunny garland will look great strung across your mantel or a sunny window.
Very festive for the Easter holiday!
Hint: To keep your bunny ears from flopping over, tape around each pom pom securely while hanging to hold them in place. Although, some floppy, loose bunny ears are just part of the character!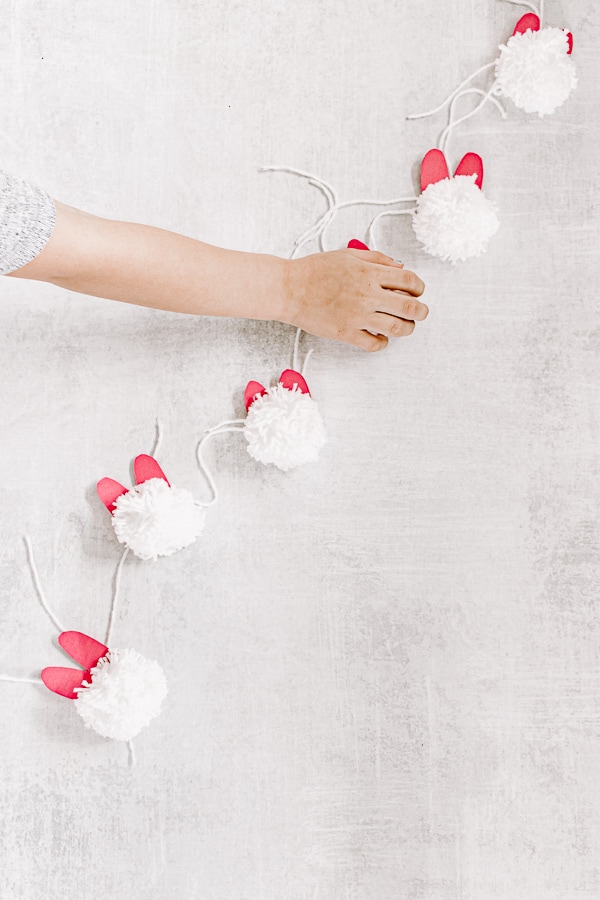 I hope you are all staying safe and healthy at this crazy time. My thoughts are with you. I hope these craft projects bring a little joy to you and yours.
Shop the Post

Thanks so much for taking the time to visit the blog today!
xo Karen