DIY Faux Mercury Glass in Gold and Silver
I'm showing you the easiest way to make DIY faux mercury glass in gold and silver.
---
If you are a reader of this blog, then you know my affinity for candles. Whether it's mason jar candles or other DIY candle holders – I just love setting out a beautiful candle in every room.
I especially love mercury glass candleholders. The soft glow of a candle makes their beauty really stand out.
Fun Fact: Did you know that mercury glass contains no mercury? It's actually just clear glass blown double-walled and then coated with a liquid silver formula. You can still buy authentic mercury glass items today and they are not too expensive either.
But me being me, I just really love a bargain and I love recreating something fancy and getting my hands dirty.
I went to Dollar Tree and grabbed a few clear glass candle jars. I wasn't sure what I wanted to do with them until I was perusing my holiday catalogs and saw all these pretty mercury glass candleholders.
Bingo!
But here's the thing. I didn't just want silver. I actually lean more towards the silvery gold mercury glass look. Maybe that's not truly mercury glass but I'm going with it. I just love the warmth that comes from these colors.
Pretty, right?
I'll show you exactly how I achieved this look!
DIY Faux Mercury Glass Tutorial
Please use all the proper precautions while spray painting. I recommend doing this outdoors, wearing protective goggles and gloves and spray painting in an old box to save your grass.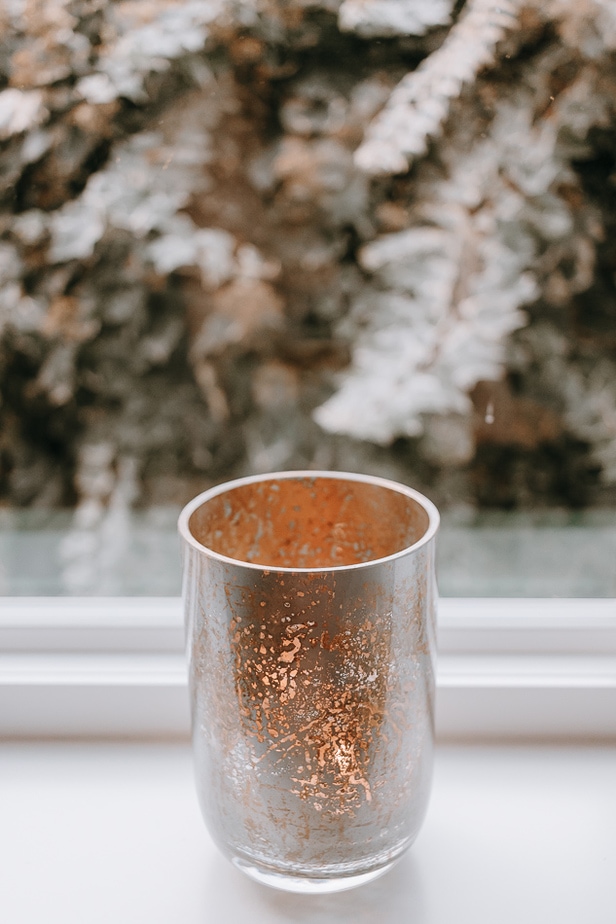 Step 1: Prepare your Glass Jars for Painting
The first thing you should do is clean out your jar, inside and out. Make sure it's fully dry.
Then apply painter's tape all around the outside. We will be spraying the inside of these jars for this project.
Step 2: Spray Paint the Inside Metallic Silver followed by vinegar solution
Here's where you need to act kind of fast. You don't want your paint to fully dry before spraying your vinegar solution.
Spray light coats of Metallic Silver all around the inside. Now follow with light sprays of the vinegar/water mixture. You should see little specks and dots where the vinegar hits the paint. This is good!
The key is making sure you have a nice spray going on. Not talking about your mouth here, LOL.
If your spray bottle only shoots out semi-aggressive streams, you won't really get the look. You want soft sprays. Almost like a mist.
Step 3: Spray Paint the Inside Metallic Gold followed by vinegar solution
Now we are just repeating step 2 but with the metallic gold. The gold is so pretty and really gives it that warm glow.
Here's the good news.
Did you goof up? No worries! I found that I could scratch the paint off in some areas with my fingernail and start all over. This allowed me to really practice, practice, practice until I had the right effect going on.
You will probably have to repeat Steps 2 and 3 until you get the desired look you want. For me, this really took all of 15/20 minutes. And it was super fun to see the mercury glass forming in action!
Decor Hint: You can create a heavier mercury glass look – but I wanted my candles to show through and I didn't want it too opaque. But true mercury glass is almost opaque.
Step 4: (Optional) Use a Paper Towel to Blot out Excess Moisture
I was doing the paper towel blot initially, but honestly, with just the paint and spray method I had better results. The vinegar solution really creates those beautiful speckles that I love in mercury glass. But if you want more of a mottled look, you can blot the inside with a paper towel.
I also found that holding my jars upside down allowed the excess water solution to trickle out – creating even cooler speckles and designs.
Step 5: Allow your paint to dry
You are finished! Aren't these so pretty? And can you believe they were only a buck plus the cost of some spray paint? I love these kinds of projects!!
These will look so pretty with the rest of my holiday decor. But really, these are seasonless and you can use them any time of year.
I hope you have fun creating your own mercury glass.
xo Karen