An easy tutorial for how to make a pom pom garland in 5 easy steps.
---
Ooooooo Emmmmm Geeeeee. You guys. I love the way this turned out.
Sometimes it's the simplest DIY projects that make the most impact. This is one of those projects.
Last week I posted on kids room decor and I was so inspired by this colorful pom-pom garland. I just love how it adds so much color and texture to the room.
These DIY pom pom garlands are great addition to a kid's bedroom or playroom. If you already have a creative type of office with lots of colors, you could drape this over something as fun decoration.
So get to your craft room and let's start making!
(By the way, if you love pom pom room decor, you have to check out my Anthropologie knockoff – this DIY Pom Pom Belly Basket. There is something about pom poms that I just love. I love adding them to pillows and towels.)
Shop the Post

Things You'll Need
Note: You can buy pom poms these days from your local craft store, like Hobby Lobby, Amazon, Joann's and Michael's. I think it's fun to make your own pom poms, however, using a pom pom maker. With the maker, you can make a variety of sizes in different colors.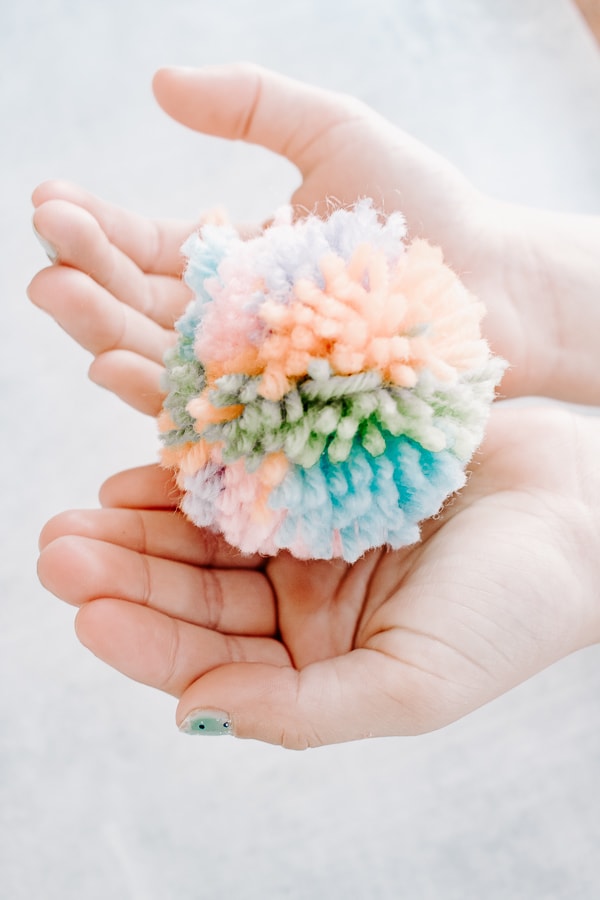 How Many Pom Poms will I Need?
That depends on how long you want your garland to be and how far apart you want them spaced. It's totally up to you which makes this project totally customizable. Learn how to make Pom Poms with this post here.
Watch the Video here…
How to Make a Pom Pom Garland – Step by Step
How to Make a Pom Pom Garland
Total time: 1 hour
Make your Pom Poms

This could not be easier, in fact, it's kind of fun. Follow my tutorial with photos here for exactly how to use a pom pom maker. This is how to make the best, fluffy pom poms. You can make various sizes too; large pom poms, small pom poms or somewhere in between. You can also make them in tons of colors! After you make your pom poms, you will have two excess strings hanging from each and we will use these to attach to our garland.

Attach Pom Poms to Garland

Cut a long string or piece of twine to the length you want your garland. Actually, you can make this as short or as long as you want. Attach each pom pom along the garland by tying a tight double knot with the two excess strings located on each pom pom. An alternative would be to take a long piece of yarn string, tie it to a blunt or yarn needle and thread it through each pom pom.

Trim off Excess String and Hang

Use a scissors to cut off any excess long strings, or you can just leave them like I did! Then, hang it up or drape over a piece of artwork.
This garland project is great because …
It's cheap. The material was inexpensive and I have a bunch leftover for other projects.
It's fast. Whip this up in 20 minutes.
You can coordinate the colors with your current room decor.
You can make these pom-pom strings for parties, holidays and celebrations – make a red and green one for your Christmas tree, a blue and pink one for a baby shower, a green and white one for St. Patricks Day.
You can use them to adorn gifts as gift toppers.
These make the perfect, sweet decor to your nursery or kids room.
You can add variations: try adding some tassels or charms, or make one in bright colors! You can even make a wreath – but that's a whole different project.
How to Transport your Garland
I had a wonderful reader get in touch with me to say she and her daughter had made this for a school project. She asked if I had any suggestions for transporting it.
Great question!
The string can get tangled on itself if you just ball it up, so it's best to wrap this around a piece of cardboard carefully to keep it all straight.
How to Hang A Pom Pom Garland
You can use these command light hooks to tie a knot on either end and string it up that way. This is actually how I hung the pennant bunting in my son's room.
Or, you can just use fun washi tape to stick this to the wall. Washi tape comes in all sorts of colors and these garlands are not that heavy, so it should hold.
Where to Hang them
You can use these pom pom garlands as seasonal décor, or just keep them up all year long. Here are a few ideas for where to hang these.
Fireplace Mantel
Across Windows
Draped from the ceiling in a playroom
Or, as I said before, just drape it on something! Here in my daughter's room, I hung it across her ballerina pictures.
So fun and so cute! Thanks for reading,
xo Karen
Karen Sloan is the founder, editor and syndicated content writer of www.decorhint.com. She offers hints of inspiration for everyday living, including home ideas, DIY projects and lifestyle content. Her work has appeared on Google News, MSN, Pioneer Woman, Apartment Therapy, and Bustle, among others.