Laundry Room mood board: see our design plan for the laundry room! Week 1 of the One Room Challenge for Fall 2021.
---
Well, here we go again! 🙂
I decided to join the One Room Challenge for Fall 2021!
What's the One Room Challenge? It's an online interior design event featuring designers, bloggers, guests, and basically whoever else wants to join. The catch? You have to makeover one room over the course of 8 weeks. This event was started by Linda Weinstein and is sponsored by Better Homes and Gardens. It's such a good source for inspiration for your home and decor (and a way to keep ME on track for finishing a project I start – haha).
This will be my 2nd One Room Challenge. The first one I did was my kids playroom which you can see here.
I'm so excited to be taking part in this challenge again and can't wait to show you guys what I have planned.
The Details
Room: Laundry Room
Here are some photos of what our laundry room currently looks like. Storage is key! I can't wait to get rid of those ugly wire shelves. As you can see, I use our washer/dryer as shelves right now. Lovely.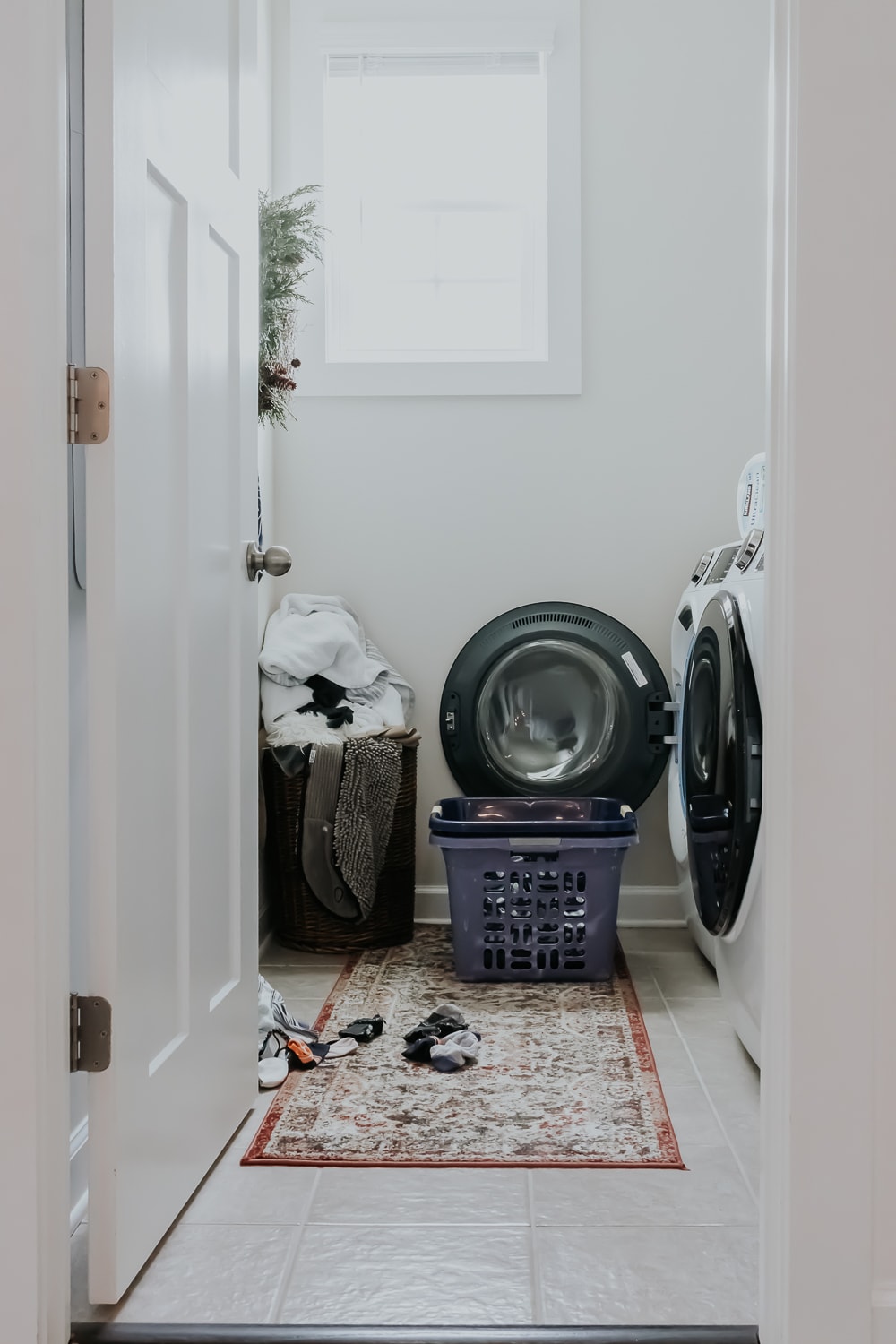 We have a small laundry room and I think when you have a small room like this, you can go a bit bolder and moodier with color. I want to walk into my laundry room and feel super cozy and warm. Like it's hugging me. That's the only way I can describe what I'm thinking right now – LOL.
Who doesn't want to be hugged while folding laundry? You know what, don't answer that. 🙂
This room is also screaming for texture – so rattan baskets and warm woods are in order. I'm going to bring in a few open shelves and I still have our peg rack hanging in there which I plan to keep.
Finally, I'll bring in some additional accessories like art and branches to keep it looking pretty.
Projects Planned:
Paint – not sure of the color yet, I just know I want something moody!
Beadboard – install on window wall
Laundry Cabinet Install and hardware swap (need something cute here)
Laundry Bag with Grommets
Install open shelving above washer and dryer
Install Laundry Counter??? – this is the big "maybe" project.
Install some cool lighting!
Laundry Room Mood Board
I always try to use whatever I have first – before purchasing anything new. That includes paint, accessories, artwork – you name it. Wherever I can save money, I'll do it.
How cute are some of these laundry accessories from Walmart!? Those vintage laundry tins are a bit cheesy but I just love them.
My mother-in-law gifted me an old vintage washboard. It's been sitting on these ugly wire shelves for a year now. It's time to showcase that baby! I'll probably use it as art and hang it on the wall, or lean it up on my open shelves.
Here are some of the accessories I'm thinking of for this room…
Inspiration
Here is the inspiration so far.
This first one is from Joanna Gaines. I love the warm wood shelving above the washer dryer and the globe light fixture.
This next one is by Jean Stoffer, one of my favorite designers. This laundry room is hidden and that makes it completely genius, but doesn't this feel so elegant? I'm loving the colors and artwork and that caned chair. Laundry rooms don't have to be so utilitarian – why can't they be elegant rooms just like your dining room?
I love the color in here! You can never go wrong with peach and green. This design is by Juniper Studio.
This space from House & Garden is small and simple, but I love the sage green paint in here. This feels very cozy to me!
Finally, my favorite picture! And yes, it's not a laundry room. But the whole cozy color scheme is just amazing. Those warm wood tones against the dark blue paint – swoon. If I can recreate this look in the laundry, I'll be pretty dang happy. Image via HomeEdit.
Shop the Post
Click on any photo to shop for the item.