7 Tips for Applying Peel and Stick Wallpaper
---
I love to peel and stick wallpaper.
It's amazing how you can instantly change the look and feel of a room with just some peel and stick wallpaper. The only downside to it is that it can be pricey.
I generally save the peel and stick wallpaper for small spaces in our home, like closets or accent walls. I even applied some with our laundry room makeover last year. Made such a difference!
Now our current dining room needed a little something – it was pretty but very beige. And peel and stick wallpaper was just the ticket. We already have molding covering half the wall, so we wouldn't need too much.
You can get nice peel-and-stick wallpaper almost anywhere these days. Your budget will determine where you shop. I wanted something nice, somewhat neutral, but eye-catching. And not crazy expensive either. I picked up this wallpaper from Walmart. This brand has lots of amazing papers.
Check out this roundup of beautiful but cheap wallpapers (peel and stick!)
I'm certainly no expert at applying wallpaper, but I've learned a lot just through this dining room project.  So I'm sharing my tips with you in case you are in the same boat.  And by the way, I say go for it if you're on the fence.
Tips for Applying Peel and Stick Wallpaper 
I love how our dining room turned out. It's not perfection, but my motto is becoming progress over perfection (said by a former perfectionist). I will give anyone $100 if they can spot the ONE area where the pattern didn't quite line up.
Tip #1: Make your First Piece of Wallpaper Laser Level Straight
Unless you are starting in a corner where you can line it up to the wall, you will need a level.  Your first piece will set the tone for the rest of the pieces.  So make it straight.  I started here, at the very beginning of where the molding starts.
I used a level against that top wall to make sure that the very first piece was as straight as it could be all the way down. After that first piece was down, it became easier to line up the pattern.
Tip #2: Peel Only a Little off at First
I tried this so many different ways and by far the easiest way to manage the wallpaper was to ONLY peel a little off the top first. Maybe a foot or so. Then line it up straight, THEN peel the rest of the backing off as you work your way down.
Peel and stick wallpaper can stick to itself.  and being up on a ladder while trying to unstick very sticky paper can lead to not so pretty accidents.  So only peel a bit off at first.  This tip also makes it easier to press out the air bubbles!  
Tip #3: Save your Scraps
You will find that you have scrap pieces after trimming each piece.  Some will be small and some might be quite large.  Save them all.  
There were a couple of places in our dining room where the pattern just wouldn't line up and I was on my last roll.  My husband and I were like puzzle ninjas and we managed to piece together holes from just the extra scraps we had saved.  And nope – you can't tell at all!  There is only one very small area that we couldn't get to line up 100%.  But again – that $100 is yours if you can find it  🙂
Tip #4: Use an Exact-O knife on corners
I'm just gonna say it.  Corners are a B*$#%.  I tried my darndest to get the corners to smooth out and line up WITHOUT cutting it.  But it just wouldn't work.  
So I took my Exacto knife and cut the piece in the corner, so each side would meet in the corner and lay flat.  It still took some manipulating.  But that's the easiest way I could get the corners to behave.  
Tip #5: How to Get Stubborn Air Bubbles Out
I found that 97% of air bubbles were able to be smoothed out with just my hands. But there were still some stubborn spots.
Yes, technically, the best way to get those stubborn bubbles out is to carefully lift away the paper and lay it back down.  But sometimes, ya know, these bubbles don't want to give up the fight!   I take a small pin, like a sewing pin, and just pop it.  Be careful obviously, don't make it into a giant hole.  A small pinhole is undetectable and is just enough to get the air out.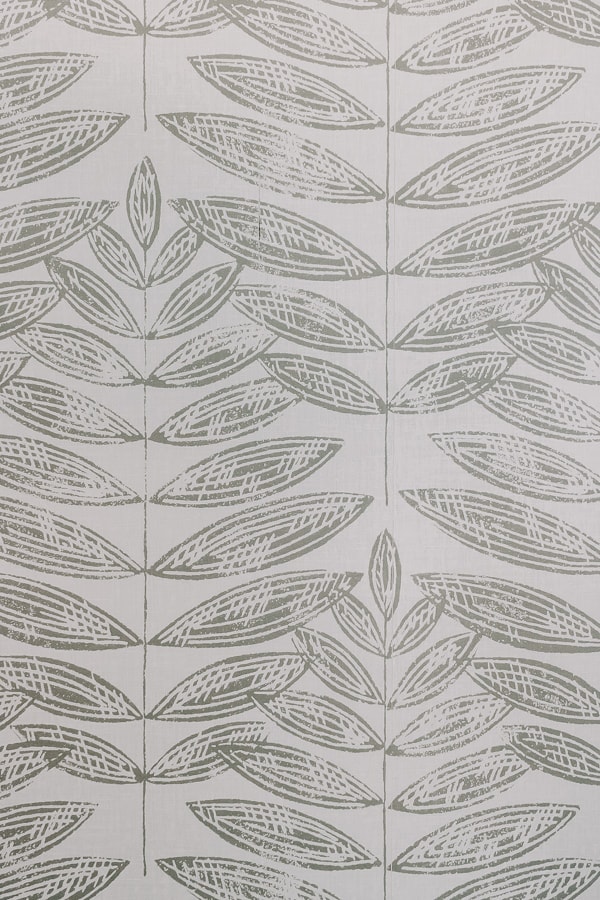 Tip #6: Don't Pull on your Paper!
Did you know that peel and stick wallpaper can stretch?  Yes, yes it can.  There were times when I thought I was going to lose my mind.  But then I realized that I was actually pulling way too hard on the paper and the pattern was stretching ever so slightly and wouldn't line up for me.  
My tip here is to apply the wallpaper with a gentle touch. Follow the lead of the paper and lay it flat on the wall without pulling or stretching. Then just smooth out with those gorgeous hands of yours.
Tip #7: Use a Good Exacto Knife.
A good Exacto knife will take you very far with wallpaper. It can help you tackle corners, and give you a razor straight finish in the end by trimming off the scraps.
But not all Exacto knives are created equal. I used this one.
I didn't need to buy one of those wallpaper smoothers either. My hands worked just as well. And I even used my level to help it adhere to the corners.
Is peel and stick wallpaper easy to apply?
It depends.  It depends on the wall and the wallpaper.  If you are just applying it to one accent wall, and the pattern doesn't need to line up, then yes it's easy.  Otherwise …
Is it easy?  No.  Manageable?  Yes.  Once you get into a groove and learn the little nuances of applying, you get the hang of it and it goes much faster.  Plus, that feeling of how proud you will be in the end is so worth it.  So that's it.   It took me a total of 8 hours and 7 entire rolls to finish this wallpaper project.  And look, I'm still smiling!  
Peel and Stick Wallpaper on Shelves
My daughter has this cute little inset bookcase in her room. It's old and the shelves are kind of crooked, but it works and it's the perfect space to store all her books.
I knew I wanted to do something with this book nook, whether I just painted it or added some wallpaper. Since we have paneled walls in the back of the bookcase, wallpapering the back of the bookshelf was not really going to work.
I ended up just painting the back a soft peachy pink to have it pop a bit against the white paneled walls. I love this color so much for her room. The color is Angelic by Sherwin Williams.
Only, this wasn't enough. I still wanted a little more character. And that's when I remembered the leftover peel and stick wallpaper I had from our laundry room makeover. That would totally work here.
You can easily take a boring bookcase or book nook from blah to wow with some simple peel and stick wallpaper.
This project is pretty self-explanatory, but I have a few tips for you!
If you can remove the shelves in your bookcase, do that. It makes it so much easier to apply the wallpaper. My bookshelves just pop right out!
Measure up your wallpaper by laying it on top of your shelves and ensure that it wraps around at least the front side (the side that will show and face forward – if you want that look). I didn't care much about the bottom or sides since you don't really see it.
I found the easiest way to do this was to line up the edge of the wallpaper with the edge of the shelf, then unpeel it from the backing and apply starting from the corner out. However – this is peel and stick, which means you can easily remove and reapply if need be. Don't worry about messing it up!
Smooth out all the bumps and lumps by running your hands along the shelves. You can use one of these wallpaper tools, but I found your hands work just as well.
Wrap your wallpaper around the front and cut off any excess from the sides. Repeat with all your shelves!
What if I can't remove my shelves?
You can still easily do this! I had to do this on the bottom of my bookshelf.
Start from the back corner of the shelf and line up your wallpaper. Ensure you have enough to cover the front of the shelves too if you are doing that. Then just unpeel and start sticking. Don't forget you can re-apply if you mess up.
How to Remove Peel and Stick Wallpaper
If you goofed up, no worries. Just remove it and start over. I start at a corner and carefully peel it off that way. I find that this paper doesn't rip easily, but it can stick to itself if you're not careful and it's tricky to pull apart if that happens. I've had to cut off and throw away sections when this happened because it just wouldn't pull apart without me damaging it. So – don't get the paper stuck to itself! I think it's best to go slow and pull firmly.
Can you Use Peel and Stick Wallpaper on any type of Bookshelf?
Pretty much, yes! This is literally the easiest wallpaper in the world to apply. You may want to read the individual instructions of your particular peel and stick wallpaper. For instance, some manufacturers state you can't apply this wallpaper to lacquered furniture.
I would also like to recommend that you clean the area to be wallpapered first. It won't adhere well to dirty or dusty surfaces. And if you just painted, you may want to wait until your paint fully cures before applying this peel and stick wallpaper.
Other than that – put it anywhere! Walls, bookshelves, tabletops, doors, stairs, etc. Have fun!
Decorating Bookshelves for Kids
After applying, I was ready to decorate her shelves! I think it's fun to add pretty toys, knickknacks, and books to a kid's bookshelf to make more of a statement.
Thanks so much for visiting the blog today.
Xo Karen