Stuffed Animal Storage Ideas that Aren't Ugly
Rounding up the most attractive, best stuffed animal storage ideas I could find.
---
Both my kids LOVE stuffed animals. My daughter has baskets (yes, plural) full of them, and my son sleeps with his fave five every night. Stuffed Animals can create such a mess and add so much clutter if you are not careful. They take up a lot of space and they can drive you crazy – one Squishmallow at a time.
How do you go about organizing these dang stuffed animal collections without making it look ugly? I'm sorry but some of the stuffed animal storage ideas out there are downright unattractive (in my opinion). We are not trying to make the stuffy situation worse. So, here's my best ideas for stuffed animal storage solutions that won't look ugly.
It's worth mentioning that if you have so many stuffies and you can't find space for all of them, it might be time to go through and donate some away rather than adding more storage solutions that only add to the clutter. How many stuffed animals is too many? I think it depends and really only you can answer that. But if the room is starting to look like a Build-a-Bear or a Stuffed Animal Zoo, you might need to pare down.
This is probably my favorite (and the easiest) way to store them. Not only is it easy to put them away when it's time to clean up, but baskets can add some texture to a child's room.
Lidded baskets are great because they truly hide the animal collection for a clean look, but open baskets do the trick as well. If you have a lot of stuffies and you have the space, try to go for a trio of different sized baskets and corral them together in the corner of the room.
Some of these stuffed animal hammocks can be bad (read: ugly), but some of these are actually pretty cute. Like one of these macrame hammocks.
Just hang the toy hammock from two hooks on the wall or even a peg rail in a kids' room. It's worth mentioning that you could totally DIY this. In fact, this would make a sweet gift for a nursery. You can learn these easy macrame knots and make this in a weekend!
Wall Shelves
We can't dismiss wall shelves. These make great decoration are really practical. And you can totally DIY these yourself. Line up all your teddy bears on a shelf and keep it where kids can easily reach for their favorites.
But, if you are not into DIY, you can also buy a set of wall shelves pretty affordably. The shelves with the bar across are ideal to keep the stuffed animals from falling out. You can even use IKEA's spice organizer shelf.
Cube Storage Organizer
If you have one of those cubbie storage units (Target, Walmart and IKEA make them), buy yourself a few fabric bins or storage bins to store the smaller stuffed animals, and just set the larger ones on top.
Bonus, these fabric bins are affordable and easy for kids to pull in and out. And cube storage units work well in a playroom or child's room because you can use the additional cubbies to store books and other toys.
Amazon sells large pocket over the door toy organizers. I like these organizers because you can hide them! Hang them on the back of a door or the inside of the closet door for hidden storage. And they really do keep your stuffed toys organized.
But you can also use a Shoe Organizer to accomplish the same thing. These also work for barbies and small dolls – just make sure you have enough pockets for each one of your stuffies.
Toy Box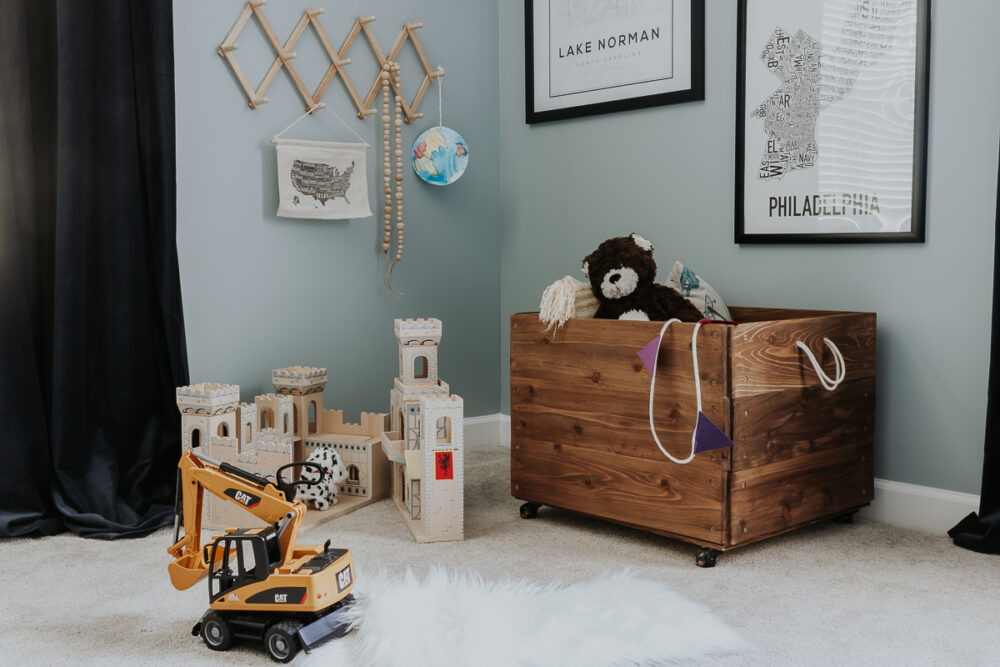 Toy boxes can hold lots and lots of stuffed animals. And guess what? Toy Boxes don't actually have to be toy boxes, you can use a trunk, a lidded basket, a storage bench (for the end of the bed) etc. and make it a toy box. Or, you can build a cute wood toy box with wheels in an afternoon.
Hanging Closet Organizer
If you like to keep the stuffed animals hidden, these hanging closet organizers are a great idea to do just that. These attach easily to your closet rod and hang down. The fabric bin shelves are the perfect spot for those stuffed animals!
Stacking Wood Crates
These wooden crates are also one of my favorite solutions for toy storage! These would be perfect to stack in a playroom and hold small stuffed animals and other toys. But these also fit perfectly in those cube storage units I mentioned before.
Stuffed Animal Bean Bag Chair
A stuffed animal chair can work well if you have a TON of animals to work with. The more you stuff them, the more functional they become. Just unzip them, stuff them up, and zipper them back up. These start to look a little sloppy to me when they are only half full. And really how well can use these as chairs when they are not that full? Luckily, these chairs come in different shapes and sizes so you can easily find one that meets your needs. You can even find pillows that function the same way.
Dresser
If you have room, you can use the bottom couple drawers of a kid's dresser to hold stuffed animals. In fact, this is what I used to do in my sons room before I got a tall basket for him. Worked like a charm!
Under the Bed Stuffie Storage
While feng shui experts might argue with me that we should ideally be keeping the bottom of the bed area free and clear – it's still a good storage spot that's hard to ignore. Some of my daughter's little stuffed animals and other soft toys are kept in a pull out storage bin under the bed.
Ceiling Storage
Prefer to use vertical storage? These hanging ceiling storage options should do the trick and they can be cute when done right. One solution is a toy chain that hangs down that you can clip your stuffed animals to. Another idea you can opt for is this stuffed animal net storage. Just one ceiling hook and you are good to go!
Hanging Wall Baskets
I love these hanging wall baskets because you can use them like art. Similar to the wall shelves idea, but they are more practical for holding a lot of things. They can add so much needed texture to a room. You can have the stuffed animals peeking out over the top – just adorable.
I've also seen people use wall-mounted buckets as a DIY stuffed animal storage version, but these are easy to install and not that expensive. Plus, when the kids grow out of the stuffed animal phase, they can use them for other things.
This set pictured above is more industrial looking, and would be perfect for a boys room.
Well that about rounds up this post! I hope these toy organizers gave you some good ideas for organizing your stuffed animal collections. Thanks for visiting today!
xo Karen