---
This post may contain affiliate links. Learn more here.
Are you all ready for Halloween? I know some of you may not get fully prepared for Halloween until a few days before the actual event.
After all, it can be hard to "live" in your home after you have set up for Halloween. Those faux cobwebs are tricky to maneuver around. 🙂
These easy ideas will have you ready in no time. And most of these are easy and cheap to create.
We tend to decorate early in this house. I can't help it, I just love Halloween!
Halloween Decor Ideas
Here are some of the best Halloween Decor Ideas out there – and they can all be done pretty quickly! Every year, you can buy a little something new, and before you know it, you'll be ready each and every year once October rolls around.
1. Take a skull and add some fairy lights.
A great decor piece for your console and coffee tables!
2. Give your Plants and Pumpkin Eyes.
This is a super fun craft and one that your kids can get involved in! Take some styrofoam balls, wood skewers, and acrylic paint and create "eyes" for pumpkins and plants. My kids laughed hysterically at this.
While it might not scare people, maybe it will make them laugh. And we could all use more laughs.
3. Make a Giant Spiderweb.
A giant spiderweb on your front exterior is the perfect way to welcome trick or treaters. Learn how to make a giant spiderweb here. Don't forget the spider!
4. Create a Trail of Spiders on the Wall.
A trail of black spiders is a fun way to fill up your walls for Halloween. Kids love hanging them too. You can hang these with mounting putty, it sticks to the wall and removes cleanly. Museums use it!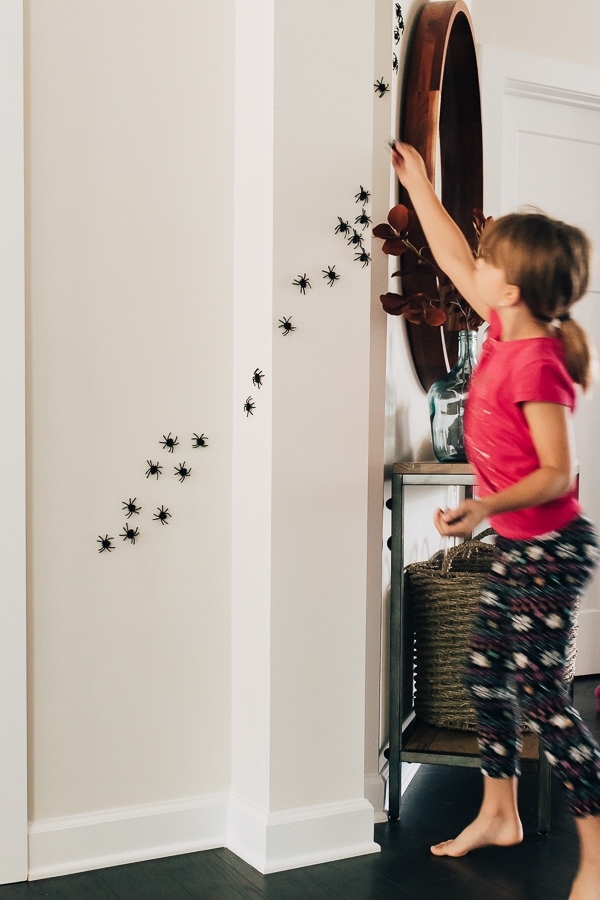 5. Hang Free Halloween Printable Art.
Courtesy of yours truly. Get your Free Halloween Printables right here.
6. Spray Paint Some Branches.
Spray paint some sticks black and bend them into a wreath. Orange candles go a long way too!
7. Hang some Cobwebs across a Window or Door
Stretch some faux spider webbing across an open doorway.
8. Add Mice to your Pumpkins.
Instead of having to carve an intricate design in your pumpkin – just make a series of holes and put some fake mice in them throughout.
9. Drape Creepy Cloth Over your Furniture
Love this! A couch looks so much spookier when covered with ripped lace or netting.
10. Create a Pathway Ghosts and Pumpkins.
I don't know any kid who wouldn't want to collect candy here. A clothesline holds a ghost, a skeleton and an old shutter. Carved pumpkins light the way.
11. Frame some Lace and Spiders.
Having a party and struggling with wall decor? Frame some doilies or lace and put a fake spider on them. Looks great!
12. Spray Paint Faux Succulents Black.
Take some of those inexpensive faux succulent plants with pots and spray paint them black.
13. Fill your Fireplace with Pumpkins.
Fill your fireplace with pumpkins and add black accents to your mantel – a single feather in a glass jar looks surprisingly eerie. And so simple.
14. Hang Giant Spiders on Your Home.
Giant Spiders hung across your house make it look extra spooky!
15. Spray Paint Carved Pumpkins Black.
Pumpkins spray painted black and lit up at night look so cool! Don't you think?
16. Hang Some Chains and Skeletons.
Tons of skulls and chains and a few pumpkins make for a haunted front entrance!
17. Hang a Halloween Mantel Scarf
Check out these best Halloween Mantel Scarves under $25!
18. Spook out Your Mantel.
Don't forget your mantel. Hang some creepy cloth, faux bats, and skeleton creatures.
Hope you enjoyed these Halloween Decor Ideas. Wishing you all a spooky and haunted Halloween filled with lots of fun and extra special goodies!
Xo Karen
Related Posts You May Like