Essential Oil Reed Diffuser Recipe
Sharing a simple, enjoyable Essential Oil Reed Diffuser Recipe.
---
There's something so refreshing about a house that smells good. Not overpowering in scent – just pleasant, fresh, clean, lovely. A home you would love to spend time in.
There are many ways to create that effect in your own home. Deep cleaning certain areas will always help – like the garbage disposal, the refrigerator, and even your indoor trash cans. You can always light candles or plug-in diffuser like Pura. You can try making this delightful Lavender Room Spray. And if you have pets, keeping them (and their areas) clean and tidy will go a long way as well.
But another way is with these DIY reed diffusers. You can whip them up in no time at all and trust me, your house will smell goooood.
My scented sachet post has become pretty popular and some of you were wondering a way you can take essential oils and make them scent a WHOLE room.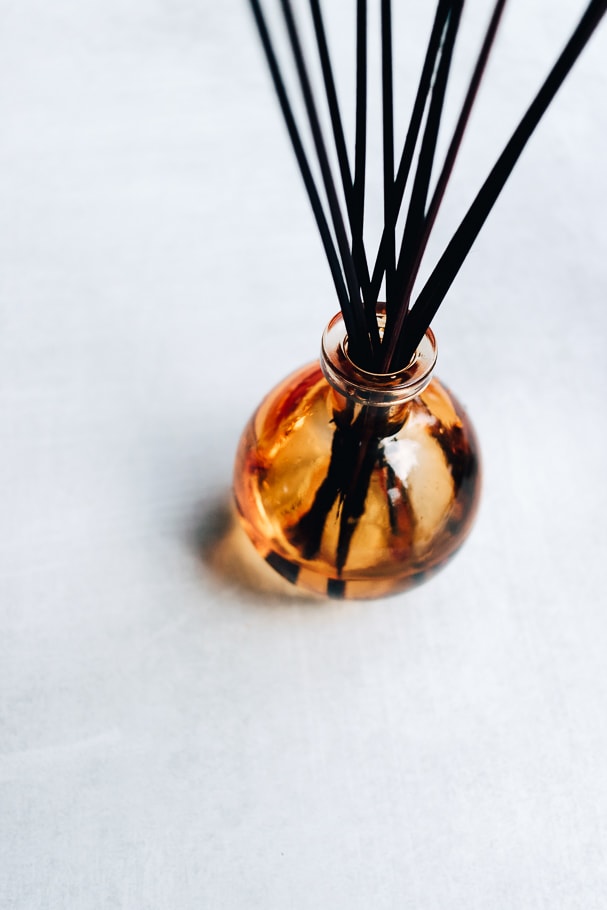 Of course, you can buy reed diffusers. But my favorite stores like Anthropologie and Pottery Barn want at least $20 bucks a pop. Why? When you can make these reed diffusers for mere cents!
I'm sharing two recipes with you today. One recipe uses Vodka and water, and the other uses a carrier oil. Choose what works best for you! I've included the pros and cons of each below.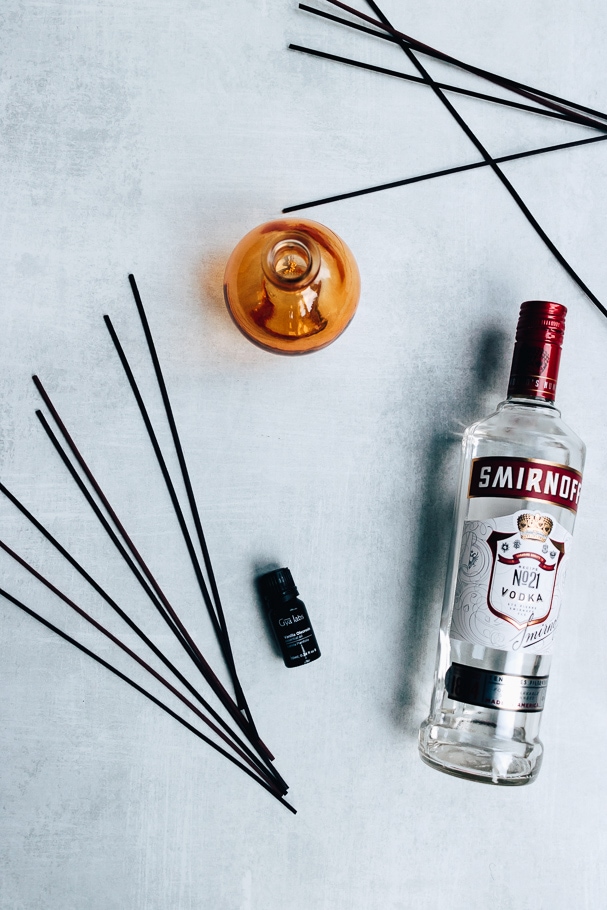 Ingredients
Glass Bottle or Vessel with a Narrow Opening (I got mine from the Dollar Store. Check thrift stores too!)
Essential Oils of your Choice – lavender, rosemary, sweet orange, grapefruit and peppermint are popular choices. You can also use a blend or fragrance oil!
Vodka / Rubbing Alcohol OR Carrier Oil (I used Sweet Almond Oil)
Reed Diffusers
Important Reminder: Whatever recipe you choose – please keep these out of reach of children and pets.
I want to note that a carrier oil will last longer than vodka, as vodka tends to evaporate quicker. Either way, in about five minutes you will have the sweetest smelling homemade reed diffuser! And you did this all on your own. Great job!
Recipe with Vodka
Mix equal parts of Water and Vodka / Rubbing Alcohol. I measured a 1/4 cup of each into a Pyrex Measuring Cup.
Add in your essential oils. I used 25 drops of Vanilla for this one.
Pour this mixture into your vessel and swirl to stir it up.
Insert your Reed Diffuser Sticks and you're done!
This reed diffuser will last you about a week. Yep, that's about it. If you stay on top of it you can easily make more. If you want something that lasts a bit longer, try this next recipe with oil.
Recipe with Carrier Oil
Place about a 1/4 cup of sweet almond oil in your vase.
Mix in about 20-30 drops of essential oils.  I used 15 drops of bergamot and 15 drops of lemon.  If you have a sensitive nose, start with a smaller dose and add more as needed for the perfect aroma.
Swirl to mix it all up!
Stick your reeds in your vase so the bottom is in the oil.
Wait a few hours, then flip your reeds. Ahhh, so fresh!
This reed diffuser will last you a couple weeks or more, depending on how often you flip your reeds etc.
Extra Tips for Success
Flip your reeds once a week or every few days or so to disperse more scent.
The more you flip your reeds, the faster the mixture will evaporate!
This water and vodka mixture is less messy (no oil spills!), but it will evaporate faster than a mixture with oil.
Use the best reeds to disperse the best scent (see below).
Do you still have a mixture left but no scent? Try using brand new reed sticks. Sometimes reeds can get clogged up and oversaturated.
The best reed diffusers are made from Rattan. Rattan reeds are hollow and have channels that pull up the scent and disperse it.
I know some people have made reed diffusers from bamboo skewers. I've never tried this myself but I just know that rattan is the best material and you will get the best scent from them. I get my reed diffuser sticks from Amazon. Here are a few favorites.

How to Make Your Reed Diffuser Last Longer
I wanted to include a few tips for getting your reed diffuser to last longer. First, the more narrow the opening on your vase, the longer your oils will last and not evaporate. If you want to use a mason jar, you can drill a few holes in the top lid and stick your reeds through the holes. This way, not too much can evaporate through that wide opening.
Second, use oil instead of water/vodka. The oil will evaporate less quickly for sure. And you can also try flipping your reeds less!
These reed diffusers are :
Inexpensive to make
Fun to customize with different scents – try coordinating with the seasons and holidays.
Need no flame (woot!)
Easy to create
Giftable!
Smell Amazing
Look pretty with your home decor
I hope you enjoyed these DIY Reed Diffuser Recipes. I can't think of any other reason you wouldn't want to try these! Perfect for any season. Happy Creating! 🙂
Thanks for visiting today,
xo Karen