Small Thanksgiving Table Decorations
Thanksgiving Table decorations for a small table. See how we style up our table for the holiday!
---
I don't know about you, but I've seen all those gorgeous table settings in magazines that show this elaborate table setting displays on looooooong and large tables.
They are beautiful to look at, it's true. And you can get some great ideas for them. But you rarely see small table settings – or round table settings, for that matter. We do not have a long table in our dining room.
We don't have room in our craftsman, and since we moved cross-country, it's been the four of us for the holidays. (it's hard – but that's another post).
We have a beautiful small round table with a leaf insert. But I left the insert out for this post because I wanted to show you how to dress up your small dining tables for the holidays.  
First up is Thanksgiving, of course. But you can use these ideas for a small dinner party as well. If you've been a reader of mine (thank you, by the way), you know I like to keep things simple and inexpensive. Read on to see some Thanksgiving Table Decorations (for a small table!)
Thanksgiving Table Decorations
Well, I will get right into it. Here's the whole table setting. I'll go through each component in more detail, but I wanted you to get a look from above.
Pops of Blue
Blue is one of my favorite colors; we have blue throughout the house. I originally had my rattan chargers out for this, but then I thought – I want to live on the wild side and go blue! And I love how the blue contrasts against the orange tulips and mini pumpkins.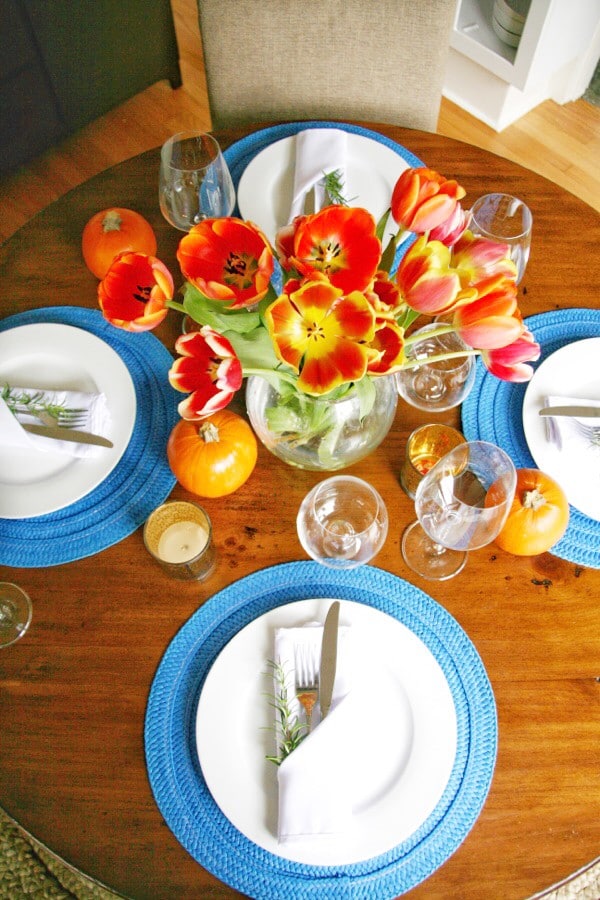 The trick with a small table setting is making it feel full without taking over the whole table. You only have so much space. I didn't crowd this up with plates, bowls, and silverware. I kept it simple with one water glass, a wine glass, a pocket napkin of silverware, and the blue chargers and white plates. I use my stemless wine glasses for water – it feels a bit fancier.
My kids love drinking out of them on special occasions (water – not wine, obviously!), and it makes the table look a bit more pulled together than throwing our casual drinking cups on there. Plus, paw patrol doesn't go with this setting.
Place Settings
We have rosemary growing out back, and I snipped a few branches to tuck into our pocket napkins. It's a simple touch, they smell heavenly, and it adds that touch of green you need…
I also set out a few of my favorite gold candleholders. They look gorgeous when they're lit, and they are small enough to fit on the table. If you have small tea candles, you can put them in a tiny drinking glass – the same effect.
Create a little pocket with your fabric napkins. Here's how to do it. It's simple and lets you stuff some holiday greenery or red berries. Or a candy cane! Cute!
Mini Pumpkin Craft
Everyone gets a mini pumpkin too…
Here's a little holiday DIY for the table. Put a sharpie on the table – and keep away from small children. LOL. The photo shows a Crayola marker, but they don't write well on pumpkins – I couldn't find my Sharpie for this post. Everyone can write what they are thankful for on their pumpkin. Then, I can display them across my mantel or windowsill for the remainder of fall, and it can remind us of all we are grateful for.
Super simple yet decorated enough to feel special. When you are ready to serve dinner, remove the flowers and set them on the buffet or somewhere noticeable but out of the way.
Talk to you soon!
xo Karen