Macrame is a super popular diy trend. Check out these super easy macrame projects for the beginner. You can complete them in a weekend and make something totally unique for your home.
Just go on Pinterest. Type in Macrame. It's not hard to find a bunch of cool macrame projects. If you are new to Macrame – here are some easy projects to get started. These will get your feet wet for when you are ready to try more challenging projects. A lot of these are small or mini versions so they are not as intimidating. Complete them in a weekend!
Check out my post on Basic Macrame knots and download your free handy macrame knot pdf!
It's easy to see why macrame is such a popular DIY project.   Bringing macrame into your decor invites that chic, bohemian vibe into our homes.  They are not only crafts, but they are also artwork.  Those intricate knots can be mesmerizing!
There are so many uses for macrame too (plant hangers, fruit and veggie holders, decorative wall hangings and even jewelry!) And you don't have to make it complicated either. The simple ones look as good as the complicated ones if you ask me.
Amazon sells the materials needed for most of these macrame projects.  Just go to Amazon and search "macrame cord" and "macrame rings" and a bunch of good options comes up.
Here are some of my top choices:
Actually – you can buy finished pieces of macrame too.
You can also use fabric. In the tutorial below from Brit & Co. they used Jersey Fabric. Super clever!
Macrame Projects for the Beginner
DIY Macrame Jar Hangers
Starting out with this easy project!  How about DIY macrame jar hangers you can make in 5 minutes?  I made them out of yogurt jars and some simple cording.  They literally take 5 minutes to whip together.  Afterward, I stuffed them with pretty, battery operated fairy lights for a dreamy effect.
Macrame Mason Jars
Macrame can add a little pizzazz to basic mason jars. These macrame mason jars are easy to make and add that rustic, bohemian vibe to any mason jar.
Mini Macrame Plant Hangers
Next up are these adorable mini macrame plant hangers from Think.Make.Share.  You just need a bit of colored cord, a small plant pot, and some rings.  See the full tutorial over on the Think.Make.Share blog!
Simple Modern Macrame Wall Hanging
I whipped up this simple, modern macrame wall hanging in one afternoon. And yes – I used an old knitting needle as my "dowel". Click the link to get the full tutorial.
Macrame Wall hanging from Jersey Fabric
I love this because it's made out of that soft, swingy jersey fabric we all know and love instead of twine.  Go to Brit & Co. for the full tutorial.
Macrame Knot Tutorial
I mentioned this earlier but wanted to remind you! 🙂 I recently wrote a post about the basic macrame knots – a step by step guide – with photos!  You can make so many amazing things with just these basic knots.
Macrame Pillow
This macrame pillow only uses just three basic macrame knots and goes much faster than you think. Check out how I made this easy DIY macrame pillow!
Macrame Feathers
You may have seen these beautiful macrame feathers online or on Pinterest. They are actually super easy to make! I have a whole tutorial on making just these DIY Macrame Feathers. You will love the way they look!
Macrame Necklace
Another great project by Lia Griffith!  Is she amazing or what?  So creative.  I love the way this necklace looks.  This could make a great DIY gift for a friend or your daughter.  Or your sister or your mom or your aunt…ok you get the picture.  Go to Lia Griffith to find out how to make it!
Decorated Plant Hangers
FTD also has a fantastic tutorial video showing you how to make these awesome plant hangers.  And – how to jazz them up after you have made them.  They show you how to Dip dye and embroider them.  So fun – go to FTD for the full tutorial and video.  Warning – the videos are a bit mesmerizing to watch.  By the way, I'm already totally obsessing over the macrame plant hanger look on the fence.  I can't wait to try this out for next summer.
Beaded Macrame Plant Hanger for Air Plants
This next one is one of my favorites!  I love the beads.  I think it takes it to another level.  And how clever to use air plants??  Then you don't have to worry about a mess.  Go to Made in a Day for the quick and easy tutorial.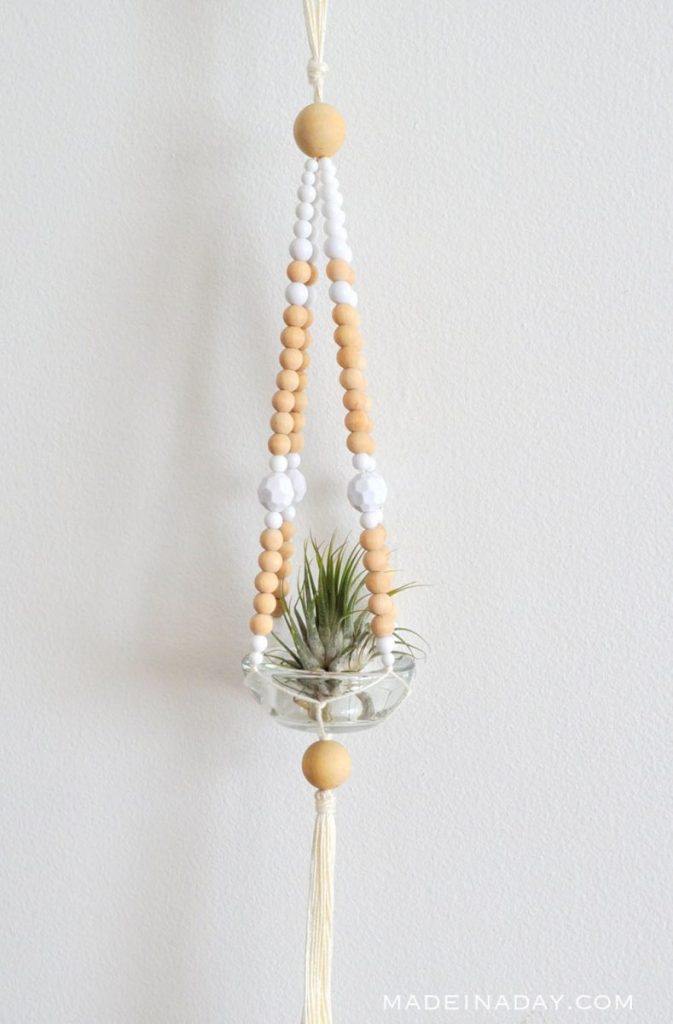 I hope you guys enjoyed these macrame projects! Which one is your favorite?
You can also follow my Pinterest Board for Macrame for more inspiration.
xo Karen