---
New to macrame? You're in luck. These beginner macrame projects are perfect if you're just starting out.
A lot of these are small or mini versions so they are not as intimidating. Complete them in a weekend!
To make it even easier, be sure to check out my post on Basic Macrame knots and download your free handy macrame knot pdf.
It's easy to see why macrame is such a popular DIY project. Bringing macrame into your decor invites that chic, bohemian vibe into our homes.
Macrame pieces are not only crafts, but they are also artwork. Those intricate knots can be mesmerizing!
There are so many uses for macrame too (plant hangers, fruit and veggie holders, decorative wall hangings, and even jewelry!)  And you don't have to make it complicated either.  The simple projects look as good as the complicated projects if you ask me.
Amazon sells the materials needed for most of these macrame projects. Just go to Amazon and search "macrame cord" and "macrame rings" and a bunch of good options comes up.
Actually – you can buy finished pieces of macrame too, but where's the fun in that!?
Beginner Macrame Projects
I've rounded up some easy projects that are super cute and fun to try.
1 // Mini Macrame Plant Hanger
How cute is this macrame plant hanger! Get the full tutorial at Think.Make.Share.
2 // Macrame Necklaces
Oh yes, you can wear macrame! Get the full tutorial for these super cute necklaces at Lia Griffith.
3 // Beaded Macrame Plant Hanger
I love the beads here! Get the full tutorial at Madeinaday.com.
4 // Mini Macrame Wall Hangings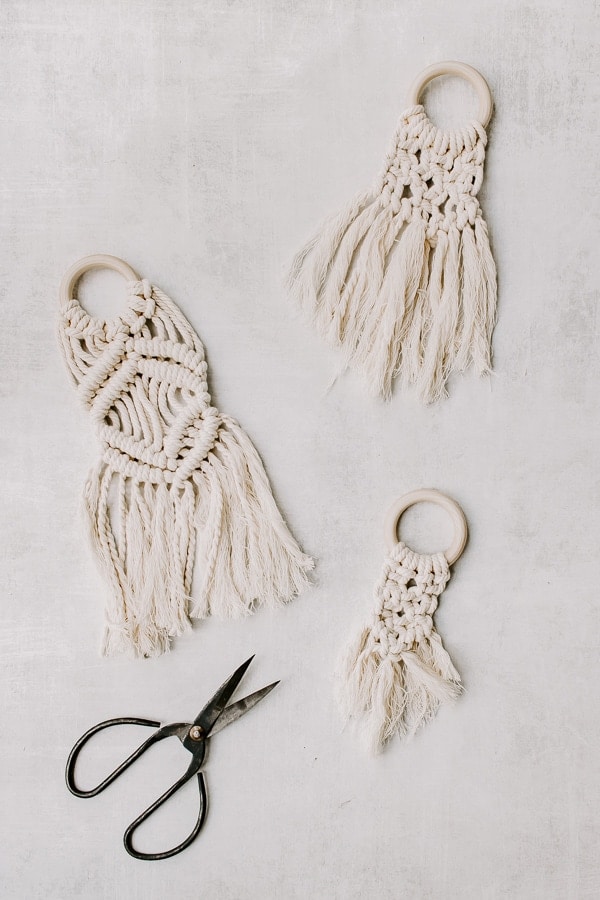 These are so fun to make and a bonus: you don't need a huge amount of cords. Find the tutorial for mini macrame hangings here!
5 // DIY Macrame feathers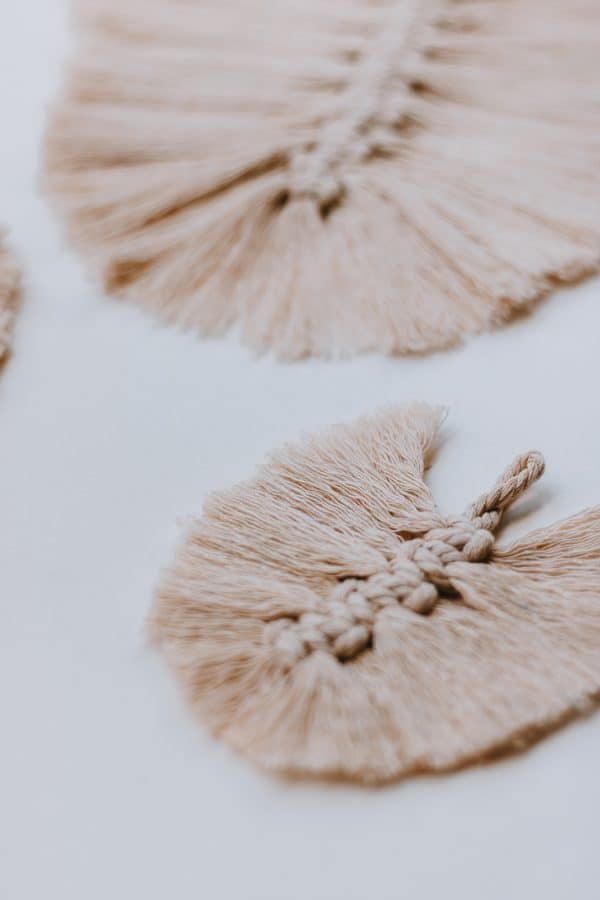 These are sure to impress your friends. Lots of oohs and ahhs for these feathers. Get the tutorial for these Macrame Feathers here.
6 // Macrame Jar Hangers with Fairy Lights
These look absolutely magical at night. I stuffed each jar (old yogurt jars) with fairy lights. Just dreamy! Make these macrame jar hangers here.
7 // Easy Macrame Wall Hanging (only one knot)
This wall hanging with beads takes just one knot. Get the full tutorial for the DIY wall hanging with beads here.
8 // Macrame Spiral Knot Christmas Ornaments
These spiral knot Christmas Ornaments will shine on your tree. Get the full tutorial for these macrame Christmas ornaments (plus video) right here.
9 // Macrame Placemats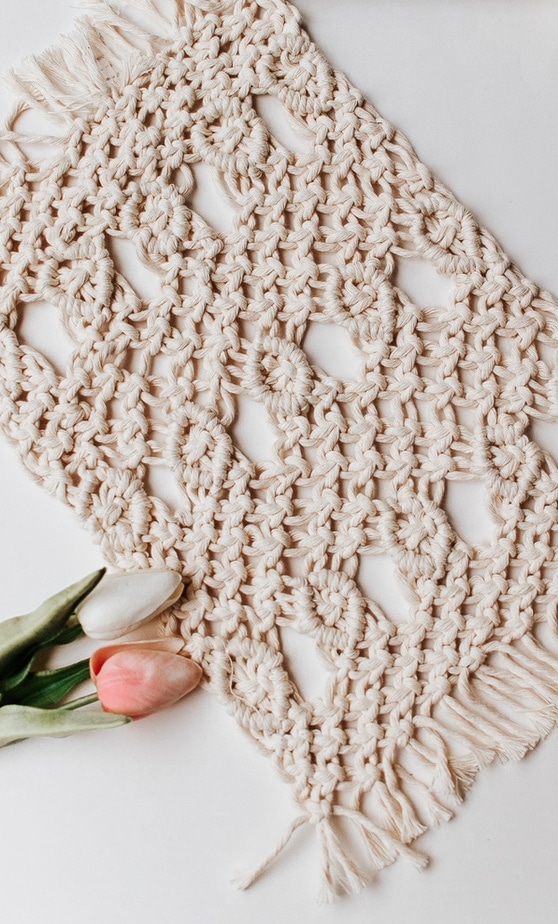 Macrame placemats are a perfect addition to your table. These placemats only take three knots. Get the details for these DIY macrame placemats right here.
10 // Macrame Mason Jars
Take a boring mason jar and macrame it up. Get the full tutorial for these macrame mason jars right here.
11 // Simple Macrame Wall Hanging
This modern wall hanging is super easy to complete and will look great on your walls. You can use this as a jumping-off point for your own creations. Get the full tutorial for this macrame wall hanging here.
12 // Boho Macrame Pillow
This project takes a bit more time but it's still just as easy! You'll love the pattern of this DIY Boho Macrame Pillow, and you can make it any size you want.
13 // Macrame Produce Bag
This adorable and trendy produce bag is a cinch to make. You only need one type of knot and a few materials. Get the full tutorial at Say Yes.
14 // Macrame Bracelet
More jewelry for you! You can make this beautiful macrame bracelet and you won't believe the materials she used to make it. Hint: You may have to look in your garage. Get the full tutorial right here.
15 // Macrame Ball Ornament
This is a fun little video showing you how to make these really cool macrame ball ornaments. See the video by Oh My Knot here.
I hope you guys enjoyed these projects! Here's even more relaxing craft ideas for you to try. Follow my Pinterest Board for Macrame for more cool projects!
xo Karen
Karen Sloan is the founder, editor and syndicated content writer of www.decorhint.com. She offers hints of inspiration for everyday living, including home ideas, DIY projects and lifestyle content. Her work has appeared on Google News, MSN, Pioneer Woman, Apartment Therapy, and Bustle, among others.